The Israeli 'Settler' Serving in Italy's Parliament
This week, Fiamma Nirenstein, a long-time resident of Jerusalem, was elected to the Italian parliament. During her campaign, she told Italians that they could learn a lot from Israel about democracy and that Hamas is an enemy for both countries.
Almost 50,000 people live in Jerusalem's Gilo neighborhood, one of the largest in Israel. Up until now, it had no representative in parliament. As of this week, it does. Fiamma Nirenstein, a neighborhood resident for 10 years, was just elected to the Italian parliament. If we stick to the definitions of the UN, which views Gilo, on the capital's southern edge, as a settlement, one could say that Nirenstein is the first settler to be a member of a non-Israeli parliament.
This week, in a series of phone calls to Rome, between the first reports of a close victory for the right-wing coalition, to which Nirenstein belongs, and the final reports of Silvio Berlusconi's sweeping victory, Nirenstein explained several times that she has not requested Israeli citizenship but that this bureaucratic fact does not affect her identity. "I feel as though I made aliyah," says Nirenstein in a conversation that fluctuates between Hebrew and Italian.
In the elections, Nirenstein did not hide her Israeliness. Her campaign was centered on the view that Israel is Western democracy's vanguard in the struggle against world terror. "I ran for a place in parliament as a representative of the Liguria district. I held rallies in Genoa and other cities in the region," she recounts. "But I didn't talk with the people about local problems. I told them that the most important thing for their Italian identity is to stand by Israel's side." Nirenstein called her most recent book "Israele Siamo Noi" ("Israel Is Us"). By "us," she was referring, of course, to Italians.
Even though Italy hasn't experienced much in the way of terror attacks and the number of Muslim immigrants there is small compared with other countries in Europe, the talk about the importance of the fight against Islamic terror, or simply of how to deal with Islam in general, is very much present in contemporary Italian discourse. Oriana Fallaci devoted the last years of her life to writing books in which she forthrightly pegged Islam as the source of all the world's evil. Berlusconi himself, the unquestioned leader of the Italian right for more than a decade, explained at one of his appearances a few days ago: "We must be conscious of the superiority of our culture, which gave prosperity to people in countries that adopted it and ensures respect for human rights and religion. This respect certainly does not exist in the Islamic countries."
Perhaps this is the reason why Berlusconi and Gianfranco Fini, Berlusconi's partner and the former head of the neo-fascist party, proposed that Nirenstein join their joint list, Il Partito della Liberta ("The Party of Liberty").
Nirenstein's father arrived in Italy during World War II, as a soldier in the Jewish Brigade. In Florence, he met her mother, who fought as a partisan against the fascist government and later against the Nazi regime. "I was born as a communist," she says. In her youth she was part of the 1968 generation, founded the first feminist journal in Italy and worked at leftist newspapers.
After the 1967 Six-Day War, a rift began to develop between her and her "communist comrades," who saw Israel as an occupying country. "I was confused for a long time," she says. "In 1982, I signed a petition against the First Lebanon War. Today I wouldn't sign it. What did Israel gain from the withdrawal from Lebanon?"
To the right of Netanyahu
Her first visit to Israel was as a reporter, and it was only after this initial visit that she returned in 1992 for the long term. For two years, she ran the Istituto Italiano di Cultura in Tel Aviv, and after the Rabin assassination, she decided she had to stay in Israel. "I had the feeling that this was the most interesting place in the world, and I also felt that the reporting on Israel was biased." She did not obtain Israeli citizenship because she thought an Israeli passport would hinder her in her work, but aside from that, she also thinks that "every Jew in the world is an Israeli even if he's not aware of it. Anyone who doesn't know it is making a big mistake."
In terms of the reality of Israel's current political system, Nirenstein is located to the right of Kadima and Labor, and maybe even of Likud Chair Benjamin Netanyahu. She says she believes in the idea of two states for two peoples, but thinks the principle of "territories for peace" has been a failure. There's no point in discussing it, she explains, until the entire Arab world is capable of recognizing Israel. Negotiations with Hamas are absolutely out of the question.
But there are polls which indicate that a majority of Israelis are prepared to negotiate with Hamas.
Nirenstein: "The public supports a compromise with Hamas, so that it will stop firing on Sderot. But morally speaking, there mustn't be negotiations with Hamas, which thinks that Jews are the sons of monkeys and pigs. You can't negotiate with cannibals, who eat human beings."
It's hard to argue with Nirenstein. Not just because of the poor quality of the phone connection to Rome, but also because she thinks that Israel is a beacon that should serve as inspiration for the entire West. "Israel is the vanguard of all the democracies in the world, and the time has come for Europe to recognize that," she says.
But in the election campaign you met with Italians who barely know where Israel is. How did you persuade them that Israel is important to their lives?
"I said that Italy can learn a lot from Israel. It can learn what a true democracy is, how a democracy can survive in conditions of conflict, without forsaking its fundamental principles. Israel is a culture of life, a culture of people who are always seeking peace. Our problem in Italy is that sometimes we don't know who we are. You can know who you are if you know your enemy and your friend. Israel is Italy's friend."
In other words, Islam is the enemy?
"I'm not saying that all Muslims are terrorists, or that all Muslims are criminals. But Hamas has announced that it wants to conquer Rome, to make it the outpost from which it will conquer all of Europe."
And you think that Hamas really intends to conquer Rome?
"Rome is a very symbolic place in the eyes of radical Islam. Italy, with its Catholic culture, is an enemy in the eyes of Islam."
Obviously, this all touches on one of the central issues in Italy's recent election campaign: the immigrant issue. Fini, who is slated to be appointed parliament speaker in Berlusconi's new administration, frequently talks about the need to ban illegal immigration. Even the moderate Social-Democractic party, led by the former mayor of Rome, Walter Veltroni, devoted a good amount of attention to the subject.
"People feel that immigration is threatening their cities, their culture," Nirenstein explains. "Maybe it's exaggerated, but the residents of Florence, for example, think of their city as a temple for the works of art that were created there. When they see the steps of the Duomo filled with immigrants, they're in shock."
I lived in Florence. I remember Italy as a tolerant country.
"It's changed a lot. There are entire quarters that you can't enter at night. There's rape, there are assaults, there's drug dealing. There are schools for immigrants where they don't hang the crucifix. The immigrants have contempt for our culture. We gave them work and they scorn our values. There's a deep contradiction between the more radical Islam and Italy's values.
"The problem is that there is hardly any moderate Islam in Italy. Just the opposite. In Rome they built an enormous mosque. There are a lot of mosques in Italy, and very anti-Western madrasas operate in them. There's polygamy, there's wife-battering - it's very common. There's a father who killed his daughter for 'family honor.' It's logical that Italians would notice and that there would be reactions."
The straight- armed salute
In Nirenstein's books, you don't find the aggressive anti-Muslim sentiment that screams from every page of Fallaci's books. But while she isn't part of the wave of opposition to immigrants and Muslims that is sweeping Italy, she does belong to the new right that scored an impressive election victory this week. It seems that there is no such thing as a right way to be "right" in all of Europe: Berlusconi, the avowed capitalist and most avid pro-American in Europe, on the one hand, the Lega Nord (Northern League) with its wild incitement on the other, and then Fini and his former neo-facist party. Angela Merkel and Nicolas Sarkozy almost seem like communists in comparison to this bunch.
Nirenstein does not "completely" accept this definition. To her, Berlusconi is a centrist who also received votes from the left, because he's "for the downtrodden" and wants to lessen their tax burden. Nirenstein sees herself as "a friend of the Northern League," which just wants to turn Italy into a federal state. She feels this is a legitimate ambition, even if some of the League's pronouncements are "unpleasant."
Her closeness to the former neo-fascist party caused Nirenstein some discomfort during the election campaign, particularly after one of Berlusconi's candidates for the Senate, Giuseppe Ciarrapico, proudly announced that he was and remains a fascist. According to Nirenstein, his candidacy "does not fit" with her candidacy as an avowed anti-fascist, a Jew and the daughter of a partisan, but she remained on the list nevertheless. "There's no such thing as a perfect list," she says.
Did you encounter people like Ciarrapico during the election campaign?
"At one of the election rallies I attended, in Genoa, someone gave the straight-armed salute. I went to the Allianza Nationale [the new name of the former neo- fascist party] people and asked who it was. I said that I protested, that I was stunned to see such a thing and that I did not want to see it again."
But Fini himself used to do the straight-armed salute at rallies in the 1960s, when everyone knew where fascism had led to.
"I don't know if Fini did that salute, maybe he did it in his youth. But I don't know what more he could have done than to kneel at Yad Vashem. Is he supposed to kill himself?"
He may not have been able to do more. But how did you, as a Jew, the daughter of a partisan, feel alongside a man who supported fascism as an adult?
"He was a fascist like I was a communist, when I was indifferent to what Pol Pot did, when I admired Che Guevara. I see him as someone who has since developed."
Post-election Italy, says Nirenstein, is a better place, a more stable place, a place without a radical left and a radical right. She doesn't know yet what she'll do in the new parliament. Nirenstein would like to deal with foreign affairs, but she knows she'll have to pay a price: For now she'll remain in Rome and bid good-bye to her good friends in Israel. She's not giving up the house in Gilo, though. It will wait for the return of the parliament member from Rome.
ICYMI
Ken Burns' Brilliant 'The U.S. and the Holocaust' Has Only One Problem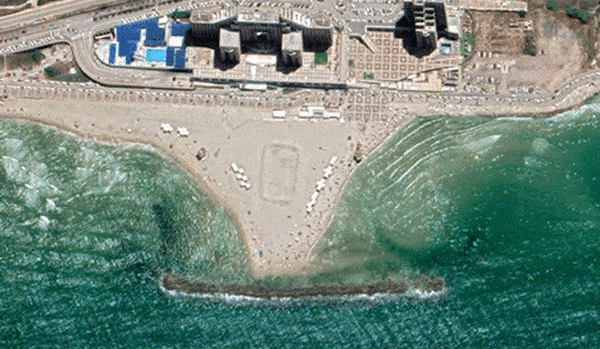 Facing Rapid Rise in Sea Levels, Israel Could Lose Large Parts of Its Coastline by 2050
As Israel Reins in Its Cyberarms Industry, an Ex-intel Officer Is Building a New Empire
How the Queen's Death Changes British Jewry's Most Distinctive Prayer
Chile Community Leaders 'Horrified' by Treatment of Israeli Envoy
Over 120 Countries, but Never Israel: Queen Elizabeth II's Unofficial Boycott