Knocking on Haven's Door
In the worldwide migration pattern, in which poor people from politically unstable countries migrate to democratic, capitalist ones, Israel falls into the latter category.
Menachem Begin's first official action as prime minister in 1977 was to grant citizenship to 66 Vietnamese boat people, who had been picked up by an Israeli cargo ship in the Pacific Ocean. Explaining his decision, Begin said: "We remembered, we never have forgotten, the boat with 900 Jews [The St. Louis] having left Germany in the last weeks before World War II ... traveling from harbor to harbor, from country to country, crying out for refuge. They were refused ... Therefore it was natural that my first act as prime minister was to give those people a haven in the Land of Israel." By 1979, Israel had granted citizenship to 400 Vietnamese who had fled the communist regime in their country. Begin's act remains Israel's only policy precedent for non-Jewish asylum seekers.
Today, Israel is faced with an influx of refugees on a scale Begin could never have imagined. In the worldwide migration pattern, in which poor people from politically unstable countries migrate to democratic, capitalist ones, Israel falls into the latter category. Thousands of people spend their savings and risk their lives to come here, some fleeing death from persecution, others death from starvation.
"The refugees must be stopped, or Israel will be overrun." That is the perspective of Yaakov Ganot, the head of the Interior Ministry's Population Administration, on this complex issue. Most of the time, these asylum seekers, nearly all from the African continent, are portrayed as a burden on Israeli society, yet another demographic problem the Jewish state must face. Not wanting them here, it treats them as criminals. At best, this position smacks of paranoia. At worst, it's cruel. The reality is that this population has much to offer Israel, morally and practically.
It is a major tribute to Israel that these asylum seekers view the country as a haven, a humane democracy where they will be treated fairly under the rule of law. In Egypt, which serves as a kind of portal country, such people are more likely to encounter xenophobia and racism. There, refugees are shot at at political rallies, or spat upon in the street because of their skin color. As Muhammad Ali, a 24-year-old from Darfur, who spent three years in Egypt before making the perilous journey to Israel through Sinai, put it: "Egypt claims it has a democracy, but it is just like Sudan." So when a group of Darfuri refugees chooses to call themselves B'nei Darfur and hang up an Israeli flag in their meeting place, this should rightly move us.
Moreover, they offer an economic opportunity to their host country. While most Israelis find picking fruit on kibbutzim or cleaning hotel bathrooms a demeaning option, this population is thrilled to take these jobs. Those who have found such employment, legally or illegally, speak about their work with pride, knowing they have the potential to help family members suffering back home.
But right now, real discussion about this potential opportunity is overshadowed by a humanitarian crisis that has reached its boiling point. This paper and others have spilled much ink exposing the squalid conditions of the shelters that voluntarily take in refugees: dozens of people sharing one bathroom, crowded basements flooded with water and reeking of urine - conditions that would shock most people of conscience. Responsibility for their care has fallen entirely to small NGOs like the African Refugees Development Center (ARDC). When authorities release asylum seekers from Ketziot Prison and dump them on the streets of southern Tel Aviv, sometimes the NGOs have only a few hours to find them food, clothing and shelter. In the days and weeks that follow, they help in every realm: advocacy, job placement, and apartment hunting. It's hard to overstate how hard these groups are working, relying heavily on volunteers, but they simply cannot keep "doing what the government is supposed to do," says Yohannes Bayu, director of ARDC. "Now things are out of control. We tried hard. We tried our best." When student volunteers are e-mailing friends, asking if refugees can spend the night in their homes, it's not a good sign.
What has Israel done? So far, its only public policy has been to grant 600 Darfuri refugees temporary resident status. For these 600, this is the gift of a new life. Though the government is mum about a potential path to citizenship, this distinction both allows them to work and, after six months, entitles them to such social benefits as health care.
But for the rest of the African refugees who are here - experts estimate they number up to 7,000 - this gesture doesn't mean anything. Most of them are not from Darfur. They are from southern Sudan, Eritrea, the Ivory Coast, Somalia, Ghana and Nigeria. Furthermore, there are tens of thousands more already in Egypt, many of whom are no doubt organizing to make the journey to Israel.
Their presence forces us to confront some of the most uncomfortable questions facing Israel. At the heart of the matter, I believe, is the tension between Israel's desire to be both Jewish and democratic, because until now only Jews and their family members have had the automatic right to citizenship. But the fact is that Israel is not due to create a constitution in the coming months (something that would force the country to define its guiding principles), nor is it about to adopt a regular procedure for non-Jews to become naturalized citizens.
So for the moment, these profound questions must be set aside in favor of introducing policies that will make a difference now. There are two major moves that Israel must undertake immediately. The first involves aid. It's time to relieve the NGOs and recognize that this is a national problem. Aid will help avert this growing humanitarian disaster. The second is for Israel to create a transparent process for review of individual cases. Fortunately, Israel can refer to existing international law, much of it drafted in the wake of the Holocaust, when our people were the relevant refugee population. Though distinguishing between the different cases will no doubt be extremely difficult - is death by poverty fundamentally different from death by a government bullet? - transparency is essential in a realm that up until this point has only been shady.
Instead of spending this past week crafting such necessary policy, the government chose to take out its frustration on the asylum seekers. On Monday, police raided the shelters, rounded up 200 people, some of them women, and shipped them off to prison. Though officials claimed they were illegal, many of them had papers issued by the UN High Commissioner on Refugees, and others had work permits issued by Israel's Interior Ministry. Such fear- mongering. Sounds a lot like Egypt. We would do well to learn from Begin.
Bari Weiss, a writer living in Jerusalem, is a 2007-8 Dorot Fellow.
ICYMI
Ken Burns' Brilliant 'The U.S. and the Holocaust' Has Only One Problem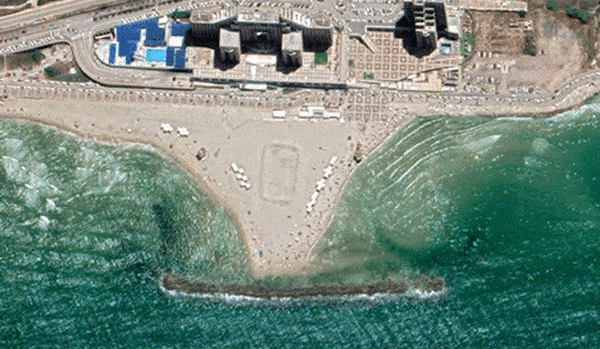 Facing Rapid Rise in Sea Levels, Israel Could Lose Large Parts of Its Coastline by 2050
As Israel Reins in Its Cyberarms Industry, an Ex-intel Officer Is Building a New Empire
How the Queen's Death Changes British Jewry's Most Distinctive Prayer
Chile Community Leaders 'Horrified' by Treatment of Israeli Envoy
Over 120 Countries, but Never Israel: Queen Elizabeth II's Unofficial Boycott