Dov Moran's World of Total Connectivity
At age 52, with msystems sold for $1.6 billion, he's at it again. Meet Modu, the morphing cellphone that Moran thinks will change the world.
He invented the revolutionary "portable hard disk", the DiskOnKey, and sold his company for $1.6 billion, making himself tens of millions of dollars in the process. Dov Moran could have comfortably retired, written his memoirs and devoted himself to playing bridge. Instead he set out to change the world, again.
Like the freshest of startup entrepreneurs, Moran, 52, collected talent, hired offices in Kfar Sava, recruited investors and developed Modu, the modular cellular device.
Which means, it's a device that can be tweaked and changed as you need. In the morning it can be a mobile phone and email device, morphing at night into a fashionable little telephone. It can be linked to digital devices such as a camera, GPS system or even electronic devices such as a stereo set, granting them communications abilities.
"The concept is to create a world of total connectivity between people and products, communications providers and the world of electronic consumer products. The world has been waiting for this revolution," Moran states.
The Modu comes to answer people's broadening demands of cellular devices - be it a phone, a camera, a media player, a secretary, a clock, a diary - that have resulted in horribly complicated devices, some with features of dubious quality, that are tricky to learn how to use. Moran brings you the naked phone to which you add and detract features as you please. How?
The basic Modu weighs 40.1 grams, making it the lightest communications device in the world, insist the startup's people. It sports Bluetooth capacity, can play MP3 music files and has a gigabyte of memory, but its real breakthrough is its ability to change. This is done using "jackets" - external devices with varying core functions into which the credit-card sized Modu is inserted, giving it a new look and features.
The Music Jacket for example turns the Modu into a conveniently friendly media player. Music companies could market jackets bearing the image of some singer or other. Another jacket turns the Modu into an 8.2-megapixel digital camera that can upload the images straight onto the Internet, if you wish. Other jackets turn it into a GPS device, a computer, a cellphone worn on the wrist for sports jocks and even into a matchmaker that locates other Modu users with shared interests in the area.
Companies could brand the device. Disney could make Mickey Mouse Modu jackets, Dior could make it a studded cover matching its outfits.
No, you can't have one for Passover. The launch is planned for October, by which time Modu (the company) plans to have dozens of jackets to offer, some of which will be designed in an in-house studio. Modu promises that the jackets will be affordable, about NIS 200, and the Modu itself will be sold in a package, bundled with a few accessories.
Modu's flexibility is also supposed to relieve people of dependence on the cellular companies. Presently consumers buy a phone and commit to a multi-year service package in order to get the thing at a good price. If they want other features they have to replace the phone. With Modu, they can change the device according to their needs.
"People buy a cellphone and love it at first, but then their buddy buys one with other features that they want too," says Modu marketing manager Zack Weisfeld.
The device sports an antenna, software, tiny color screen and pared-down keypad, enough to make calls. The jackets have more advanced keypads and the extra features.
The second revolution is how Modu changes ordinary appliances (that have a Modu slot, at least) into instant cellular machines. You can pop the Modu into the car radio (one with a Modu slot, at least) and dial using the radio buttons, Moran says, adding that the startup will shortly be formally announcing a partnership with Phillips.
"The idea is to develop an alarm clock into which the Modu could be inserted, so it would play your music. You could get SMS messages on the clock face. The clock-device would charge the telephone, too."
You understand that Modu can't fit into that five-year old radio you installed in your 10-year old clunker. It will only fit into special radios made to incorporate it, which is why the startup is working on forging alliances with leading manufacturers.
During 2009 Phillips will be launching several devices suited to Modu adaptation, says Weisfeld. The startup is also negotiating with Universal Music, which wants to design jackets featuring its stars. A GPS devices maker is also adapting its product to be Modu-friendly. Modu has already entered collaborations with three giants: Telecom Italia, VimpelCom of Russia, and Israel's Cellcom, which together have, oh, about 100 million users.
After his stellar career in high tech, following a stint in the navy, Moran is a wealthy man. He could finance the startup on his own, and has invested $5 million of his own money. But he preferred to recruit external investors. Modu's backers include SanDisk, which had bought Moran's first major company, msystems, for $1.6 billion, and the venture capital funds Genesis Partners and Gemini.
The startup is not short of cash, with $20 million in backing. Yet oddly, perhaps, Moran insists that his personal interest in Modu isn't to make money. If that's all he wanted, he could have invested in stocks or venture capital, he points out. What he wants is to change the world, again. And to have fun.
Msystems was one of Israel's brightest stars on Wall Street. It, too, ran into trouble as the stock options-backdating scandals started to swirl. No, msystems had not cooked its books or backdated so much as a lunch menu, but an inspection conducted for the sake of caution did uncover mistakes in its accounts, which led to management upheavals, a retreat in share price and, ultimately, to the company's takeover by SanDisk for $1.6 billion.
Before which, msystems introduced DiskOnKey and DiskOnChip to the world. DiskOnKey is basically a portable memory device the size of a key, that connects to a port on the PC. You can download data into the DiskOnKey and take the data to any other computer that has a similar port.
DiskOnChip is a tiny, powerful memory for cellphones and other digital devices. Moran was the visionary behind both breakthrough inventions, though many an analyst was slow to grasp the true worth of the underlying "flash" memory technology.
"When we launched DiskOnKey in 2000, the feedback in the market was negative," Moran remembers. "They said, who needs that stupid thing. In the week we launched, our stock fell 10%." But Moran and msystems forged on and many an analyst ate his hat as DiskOnKey became huge, and when success came, it came fast. In 2001 sales were $45 million. By 2006 they had reached a billion dollars, which is when Moran sold the company.
So how much demand is there for a morphing cellphone with a jacket featuring a filthy rich tattooed illiterate, that can play Hootie & the Blowfish's top hits for the kazoo and call mom from your alarm clock?
The world has raised an eyebrow at Dov Moran before and he turned his last vision into a billion-a-year-and-counting company. Whatever his venture capital partners may say, he's in this one for the long run.
ICYMI
Ken Burns' Brilliant 'The U.S. and the Holocaust' Has Only One Problem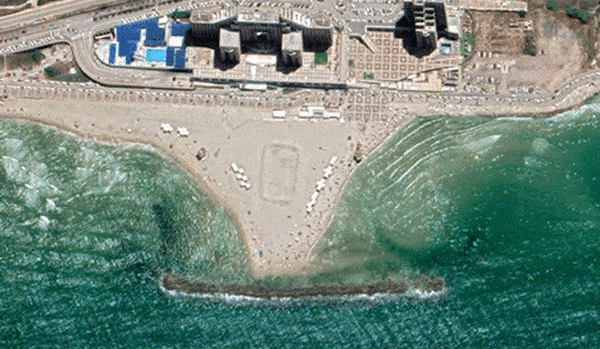 Facing Rapid Rise in Sea Levels, Israel Could Lose Large Parts of Its Coastline by 2050
As Israel Reins in Its Cyberarms Industry, an Ex-intel Officer Is Building a New Empire
How the Queen's Death Changes British Jewry's Most Distinctive Prayer
Chile Community Leaders 'Horrified' by Treatment of Israeli Envoy
Over 120 Countries, but Never Israel: Queen Elizabeth II's Unofficial Boycott