Restoring Truth's Good Name
The only way to achieve national maturity is to grapple with the complex issues that face us. It is high time Israeli public discourse did just that.
There are two camps in Israel's public discourse: the "truth camp" - small, colorful, dynamic and ideological; and the "apathetic camp" - large, colorless, passive and hedonistic. Both camps are liable to lead the State of Israel to catastrophe.
The leading representatives of the truth camp are the headline-makers: Yesterday it was Adi Ophir, today it is Hillel Weiss. Although Ophir and Weiss are polar opposites, they do share one belief that supersedes all others: Both engage in public debate armed with the unequivocal and incontrovertible truth. While they have nothing in common ideologically, they are exactly the same on a different level: Both are one-dimensional.
The truth camp not only includes extremists harboring fanatic views on the settlement enterprise or post-Zionism, but many others from all walks of Israeli life. What they have in common is their ability to interpret everything on the basis of strict, sharply defined principles that accord with their personal beliefs and opinions. Members of the truth camp can be found in the marketplace, in the religious establishment, within the world of science, in the courts, in the cultural arena, and in politics, of course. The media, packed with their own patrons of truth, work to cultivate this camp, because unidimensional truth can be phrased in a few pithy words, and those who embrace it excel at prophetic pathos and mimicry, which look great on the screen.
It is easy to identify the proprietors of truth: They avoid dialogue and listening to other arguments, and tend to engage in dictatorial monologue. They excel at cataloging, branding and characterizing people, events and views. Their speech is full of exclamations, and generously spiced with quotes and references to other remarks they have made. Some are naive Don Quixotes (among them social activists, crusaders for justice and leaders of anti-corruption groups), and some are sly Machiavellians masquerading as members of the camp (such as marketing experts, PR people and hitchhikers who have come along for the ride). Both types excel at issuing simplistic statements devoid of self-criticism that end with promises, on the one hand, and threats, on the other.
Failed ideologies
Most Israelis, however, don't buy this truth stuff. They are indifferent toward it, and even mock it, because time and again these unidimensional truths have been exposed for what they really are. Shrill political ideologies, ranging from "not an inch" of territory to the specter of a "new Middle East," have failed. Utopian religious fantasies, from a "state based on halakha [Jewish law]" to "Messiah now," have been dashed. Entrenched myths, from the "justness of the Zionist cause" to the "melting pot" and "let the Israel Defenses Forces win," have been poked full of holes. Grandiose schemes, from constitutional revolution to religious revolution to secular revolution, have melted away.
Israelis today are skeptical about displays of truth-telling, whether these truths are part of a political platform (designed to be abandoned), a media report (designed to push an agenda), a commercial tender (designed for corruption), a committee report (designed to whitewash), an educational lesson (designed to brainwash) or a cultural presentation (designed to manipulate). Also on the decline is the public's trust in professional authorities, who used to be perceived as those who harbor the objective truth. The same is true for attitudes toward court verdicts, army reports and the performance of public servants.
The process is fascinating: On the one hand, the parties stirring up public discourse in Israel offer clear-cut absolutes that are portrayed as the "magic solution" to all our troubles: Only if we privatize the economy / give back the territories / turn newly religious / activate the army / become more spiritual / or become a civilian society, do we stand any chance of being saved.
On the other hand, there is a growing mistrust of institutions, systems, leaders, leadership visions, and whatever qualifies as the "other." These two phenomena are interrelated: Those who espouse a unidimensional truth fail because they cannot predict, regulate or even explain our complex reality. Promises are systematically broken; presentations turn out to be a hoax; hope is an illusion.
Social disillusion
After an endless string of disappointments, Israelis have been pushed into a position of disbelief, followed by apathy. This dazzling show of unidimensional truth within public discourse, contrasted with its constant breakdown in the marketplace of life, is a surefire recipe for grave social disillusion. Some choose escapism: 37 percent of the public does not participate in general elections, and others make do with voting for "niche parties" that indulgently address one topic while ignoring the "big issues" (the Pensioners Party, for example).
Many others view the whole democratic process through "sober" (which is to say, cynical) eyes - as an aggressive, agenda-pushing system in which no "decent" person should participate. The desire for a philosopher-king with an omniscient perspective has been replaced by the barest minimum of requirements for leaders. The only qualification a politician needs is the ability to get elected. In the current atmosphere, Moses, who stuttered, would have remained a shepherd in Midian, while Arcadi Gaydamak, the financier, is crowned king.
It is hard to see any fundamental differences between the platforms of the three major parties. The idea of Menachem Begin and David Ben-Gurion rotating as party leaders would be absurd. But their successors, Ariel Sharon and Shimon Peres, the wolf and the lamb, joined forces to create a "centrist party." This is not an ideological conversion, but a matter of pragmatics, based on benefit to the man or the party (in that order).
The Israeli voter is thus left with three political options: ideological parties offering unidimensional truths (religious, national or security-oriented), niche parties with a unidimensional interest, or centrist parties characterized by a lack of any ideological backbone. That is a triple temptation: You are invited to become a fanatic, ignore the real issues, or be pragmatic. However, the volatile issues on our national agenda cannot be addressed by any one of these approaches.
The failure of one-dimensional truth has exacted another price: We have moved from being a national society to being a sectoral society. Of late, the move toward individualism has accelerated. A nihilistic worldview, according to which teamwork serves no purpose, is pushing many into becoming lone wolves. The growing trend of opting out of military service is but one example of this. While once Israel's heroes were public figureheads (in politics, the army, academia, diplomacy and law), today's role models are active in private enterprise, mainly business, the media and entertainment.
This atmosphere of "let every man go unto his place" receives an added boost from the postmodern theories seeping into the mindset of the general public and promoting a demystification of the truth. Thus the very possibility of any truth having intrinsic value, or seeking out the truth, is undermined.
Third camp
There is a need to internalize the danger of both extremes - unidimensional truth, on the one hand, and despairing, or making light of the possibility that truth exists, on the other. These two ills nourish one another. We need a third camp, with leaders prepared to "give their life" for the notion that there is no one idea that can put everything right - leaders whose goal is promoting a complex reality.
The political legionnaires of this third camp will come from those sectors of society that have internalized a liberal approach rejecting utopian truths. These are people who recognize human liberty and dignity as primary values, who believe in the importance of ideological pluralism and human diversity, and are thus shielded against any prospect of being swept up in unidimensional ideologies that try to bend human reality to fit their needs.
This third camp will also be joined by those for whom Jewish historical memory remains alive - the Second Temple zealotry that led to destruction; the great ideologies of the 20th century, in which entire limbs were lopped off the body of the nation. It is memories like these that keep them from being swept up by radical ideologies. In their embrace of Jewish collective memory and universal liberal thought, members of this third camp will understand that it is not enough to slaughter sacred cows. The void must be filled with dreams for the future, based on dialectical thinking that is bold enough to propose multi-dimensional answers to the big questions, and tackle them in advance rather than as a compromise.
Who will pick up the gauntlet of infusing the combination of "Jewish" and "democratic" with theoretical and practical content? When will someone formulate an approach that is equally committed to religion and pluralism? Can one be "security-oriented," but also mindful of human rights? Can the cultural dichotomy of Western tradition and Jewish tradition coexist? How does one maintain a deep emotional bond to the Jewish homeland while resolving the conflict with the Palestinians? What is the role of a nation-state in today's global reality?
These questions have yet to be seriously addressed in Israeli public discourse. As the country enters its seventh decade, we are like a child in an old man's body. Our chronological age is out of step with our mental development, self-awareness and value system. How long will we remain "stuck" in national adolescence, characterized by the hasty adoption of one-dimensional truths that plunge us into despair and then apathy when they fail? The only way to move on to the comfort of national maturity is to grapple with the big issues through the pursuit of complex truth. By doing that, we will also restore truth's good name.
ICYMI
Ken Burns' Brilliant 'The U.S. and the Holocaust' Has Only One Problem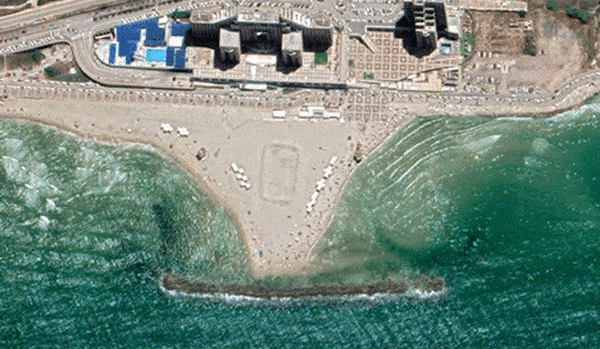 Facing Rapid Rise in Sea Levels, Israel Could Lose Large Parts of Its Coastline by 2050
As Israel Reins in Its Cyberarms Industry, an Ex-intel Officer Is Building a New Empire
How the Queen's Death Changes British Jewry's Most Distinctive Prayer
Chile Community Leaders 'Horrified' by Treatment of Israeli Envoy
Over 120 Countries, but Never Israel: Queen Elizabeth II's Unofficial Boycott