Sounds From Another Country
'Until Sfatayim, North African music wasn't played on the radio in Israel. I feel we managed to save the culture of our parents and bring it from the margins into the mainstream.'
"It's hard to explain how it happened," says Haim Uliel, vocalist and leader of the rock band Sfatayim (Lips). Then he falls silent for a while.
It's been a long time since it all began for Uliel, 50, and he doesn't actually think there is an explanation for the oddity: "It's a unique phenomenon. There's nothing like it anywhere else in Israel," he says, green eyes shining.
"Nowhere else in Israel has a local musical scene so rich developed, and it's really hard to explain how at the same time, in the same place, so much talent sprouted and broke through. I think it may be due to the help they gave one another. Cooperation is very important to creativity. That could be what helped us stick to music."
Uliel is passionate about the musical revolution that reached its peak between the late 1980s and the early 1990s. He was the first in a series of musicians from Sderot who captivated a broad Israeli audience.
It's two decades now that the sound originating in Uliel's hometown has been influencing the Israeli music culture. When Uliel established Sfatayim in 1985, the band was the first to introduce Moroccan musical themes to mainstream Israeli culture. It was a new sound that broke through cultural barriers.
"I feel that what we did then was also a social mission," he says with pride. "The whole idea of singing in Moroccan Arabic in Israel of the late 1980s was crazy. It wasn't appropriate. Foreign music such as Brazilian, Greek or American was fine, but Moroccan was considered to be ludicrous," he says. "The songs of Israel's Moroccan immigrants weren't seen as folklore or a cultural thing. We took that music out of the closet. Before us, they were ashamed of it."
From his home in Sderot, the metropolis of Tel Aviv would seem to be another country. The desert town has been stuck in metaphorical mud for too many years. It is a perennial unemployment hot spot that hasn't been able to move beyond poverty. As if that weren't enough of a burden, for years Sderot has also been under regular rocket attack. Qassam rockets rain on the town from the Gaza Strip next door on an almost-daily basis.
On one day last week alone, nine rockets hit the town. Cultural, ethnic and economic divisions screech from every niche and cranny.
Sderot is 60 kilometers south of Tel Aviv, but less than a kilometer from the western neighborhoods of Gaza Strip. It was founded in 1953 as a transit camp for immigrants from Kurdistan and Iran, who were later joined by immigrants from Morocco as well. Today it has about 20,000 residents and is considered to be among Israel's poorer towns, at least from the socio-economic perspective. Yet it is from this unpromising platform that an alternative sound emerged.
Dreaming of being Jimi
When we started playing, what we heard on the radio were the singing ensembles from the kibbutzim, with their Russian influences, Israeli rockers like Shalom Hanoch and Arik Einstein, and foreign pop and rock groups," says Uliel.
He had finished his army service and all he played was rock 'n' roll, he says, "Beatles, Led Zeppelin. I dreamed of being Jimi Hendrix. But I also understood that to make a living, I had to play at weddings, and that meant playing everything: folk music, Spanish pasa doble, hora, American rock, and also songs in Moroccan. Until then I'd heard but never played Moroccan songs. At first it felt strange to me, to sing in Moroccan. The transition was a slow one, but I was keen to do it, because I suddenly felt that I'd tapped an audience. Our audience at weddings wanted the ethnic music on which it had grown up in Morocco."
Within a few years of its establishment, Sfatayim had become enormously popular. Yet until 1989, no record company was willing to take them on. Their first record consisted entirely of songs in the Moroccan tongue.
At first Sfatayim was greeted with wariness, but ultimately the establishment embraced the band warmly, surprisingly or not. One music critic called Sfatayim "a wedding band whose genre cramped its personality."
"Our success turned the mission into sweet revenge as well," says Uliel. "As we matured, we became more socially aware. We started to understand what we had achieved. That we had won. Until Sfatayim, North African music wasn't played on the radio in Israel. I feel we managed to save the culture of our parents and bring it from the margins into the mainstream."
Day to day distress
Sfatayim also gave starting momentum to bands that followed, such as Teapacks and Knesiat Hasechel ("The Church of Reason," a name its members took from the book "Zen and the Art of Motorcyle Maintenance").
Kobi Oz, then a keyboardist for Sfatayim and today a television personality, writer and musician, founded Teapacks in 1988. Initially it seemed to be litle more than a parody of a rock-Mizrahi-Hasidic band, but it was that very quality, its bizarre melange, that made it work, making it one of the most important, interesting groups in Israel's music scene in the 1990s. The band caught on big; most recently, this past spring, it even represented Israel in the Eurovision song contest, singing the ironic "Push the Button."
A million and a half people have viewed the song on Internet and 300,000 copies of their records have been sold in toto in Israel.
Teapacks offered a new Israeli "folk" music, a combination of Mizrahi elements with those of Israeli pop. Its first album came out in 1992. The second, called "The Last in the Bottommost Decile" (meaning, the bottom of the heap), was produced in 1993. Unlike its predecessor, it won media acclaim and was a sweeping commercial success.
Teapacks sang in Hebrew and weaved a great deal of humor into its songs, but this didn't stop it from becoming one of Israel's most prominent protest bands. Its songs often relate to social issues, and give expression to the day-to-day difficulties of the little people, the downtrodden. For example, in one video clip, we see Sderot's bus station, in black and white.
Stationed among the poor, the band members sing about "an old bus station in another country. A country of reality on hold." Another song, "Rolled Up in Newspaper," which is based on a Moroccan melody, came to be an anthem at the time against poverty. "There are people rolled up inside newspaper, living in a blanket next to the traffic light," the Teapacks vocalist sang defiantly.
"I have this feeling that there are people who have been abandoned at the end of a long road that leads to nowhere. I sing to them," Oz says. "The good life may be on the other side of the road, but all too many people in Israel never reach that side. Some of those people live in Sderot," he says. "Not many artists relate to those people. Most of the Israeli bands that arose in the years when the Sderot bands came into existence brought American and English genres of the time. They brought elements from the outside. We brought things from the inside."
Does Oz find similarities between Sfatayim, Teapacks and Knesiat Hasechel?
"I do find a lot of connections between us. I call it the 'Sderot sound.' It's a very warm sound, philosophical, rock'n'roll. We all have North African beats in our music. It's a meeting of folklore with powerful electric guitars.
There are violins, but they're not genteel: a lot of the Sderot songs express anger. It isn't a conciliatory genre. It offers no escapism. I feel there's something in our music that contends with the real world. We tackle the reality. This is music that fits into the Mediterranean space. It doesn't live in an illusion that it was created in Europe. We are a plant that could only have grown in the desert soil of Israel."
Kobi Oz was the one who recorded the first songs by Knesiat Hasechel in Sderot. It became one of the biggest rock banks playing in Israel for decades. Oz gave his recordings to his producer in Tel Aviv, who decided to make a record with the band, then a band of 18-year olds. That record, "Things in Whisper," came out in 1993. In 1999 Oz founded a record company, Levantine, and produced Knesiat Hasechel's third album.
That became their first commercial success.
Their story starts five meters underground, in a sweltering bomb shelter in Sderot. The members of "The Church of Reason" grew up on the music of the 1980s. Not the joyful pop tunes, but rather the dark offerings of The Cure and the Smiths. "We encountered the Smiths through English volunteers working on the nearby kibbutzim, who frequented a pub in Sderot," says Ran Elmaliach, bass player and the band's main songwriter. "We were roughly 16 and they gave us tapes."
Elmaliach doesn't actually believe there's a "Sderot sound." "I think the music scene in Sderot is amazing, but I don't think that there is such a thing as a 'sound,'" he told Haaretz Magazine last spring. "All our records, maybe other than the first, were written in Tel Aviv, during the time we lived in Tel Aviv. We have a lot of city songs that couldn't have come into existence in Sderot. I don't accept that view. I don't find anything in common between Sfatayim and us.
We never played at weddings. The music we heard isn't the music that Kobi Oz heard, and it isn't the music that Haim Uliel heard. We heard music from England. At my house we didn't listen to Zohar Argov. Our Mizrahi elements come from The Cure."
Pain as a muse
Unlike Sfatayim and Teapacks, Knesiat Hasechel isn't a sunny band. Its members are offbeat types offering a manifesto of detachment. The mainstream is too big for them, too unreal. "We're leaving," they sing, helpless to change anything. Their songs evoke mainly a sense of submission and pain.
Their glance is always cast downward. "But it hasn't always been this way," lead singer Yoram Hazan said, earlier this year.
"My brother Zion was killed in the first Lebanon War. I was 12 years old. I'm the youngest of 12 children. My three oldest siblings were born in Morocco. I remember that before the event, I would hang out with people's girlfriends, I was the class jester, I could stand up and address the class. Today that all seems crazy to me. I don't have these abilities. When I talk to more than two people, I get stressed. On stage, these weights are lifted. My song comes from pain and it seems to me that it also comes from the trauma of my brother being killed in war. That changed my life drastically," Hazan says.
References to melancholy in Mind Church's music annoy him, "when they ask why we're sad. That desire of people to be played entertainment, comedy is insulting. What do they want? That all Israeli music should sound like Teapacks? 'Why don't you smile?' they ask me. Creativity comes out of private life. I repressed it. Since my brother's death, my whole life has been repressed inside."
Sderot-born poet and literary editor Shimon Adaf said that he actually thinks that Knesiat Hasechel is one of the most important cultural phenomena of the last 20 years in Israel.
"I make that grand statement after looking at the way they proposed to restate the Israeli identity, the culture in which they live. I think it was very important. They offer a point of view that barely exists here."
He feels that they belong to that rare bird among artists, ones who shape culture rather than be shaped by it. "They offer a poetics of despair with reality, on the one hand, and grandiose dreams, on the other. That is a statement: from their perspective, there's no room for depictions that don't arise from pain or a transcendental feeling."
Those are complete opposites. "Exactly then, a moment of utter storm, you explode like a kid, you swallow the whole world, like in their song 'We would make love': 'On full moon nights you would come to me, completely out of your mind, we would fall to the floor, oozing from the ceiling,' or you're completely severed from the world, like in 'How does it feel': 'There's no future on the horizon, there's no place where there's a good reason to live.'
"It's a condition where you look at everything from the outside, it's all happening for everyone, but not for you. There are two choices: to experience life to the fullest or to stand on the side, mourning about the widening loss." Adaf told Haaretz.
"That's exactly the structure of the Israeli experience. We live in a culture that ranges between wild nostalgia for moments that were beautiful and right, to the moment we stand and keen over what we have. I admire their insistence on that stance. The texts, the melodies, their arrangements, manage to get that experience across, and I think that corresponded with acceptance of them. They first became successful in the late 1990s, the years of the terror attacks, when people in Israel were feeling a sense that the way had been lost. Back then their songs were played on radio a lot. Later, their fourth and fifth albums weren't as successful and now again, the Second Lebanon War has brought the mourning back. I think that it has to do with the way culture relates to that stance: Now people want that feeling of grief to be verbalized for them again."
ICYMI
Ken Burns' Brilliant 'The U.S. and the Holocaust' Has Only One Problem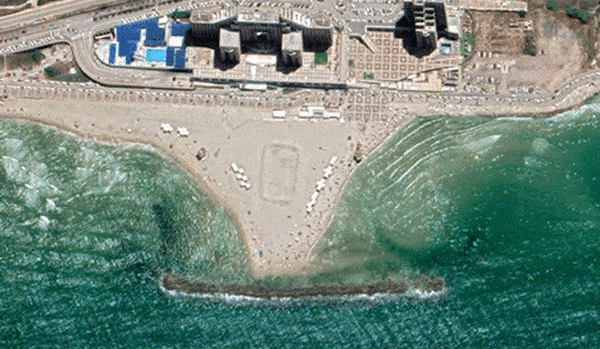 Facing Rapid Rise in Sea Levels, Israel Could Lose Large Parts of Its Coastline by 2050
As Israel Reins in Its Cyberarms Industry, an Ex-intel Officer Is Building a New Empire
How the Queen's Death Changes British Jewry's Most Distinctive Prayer
Chile Community Leaders 'Horrified' by Treatment of Israeli Envoy
Over 120 Countries, but Never Israel: Queen Elizabeth II's Unofficial Boycott