"The container tottered as the crane lifted it onto the ship, shifting in the air. The doors, which had not been sealed well, opened, and dozens of bodies began to spill out. They looked like mannequins. But as they hit the ground, the heads split like real skulls. And they were skulls. Men and women, along with a few boys. Dead. Frozen, heaped together, on top of each other. In a line, floating like sardines in a can. They were Chinese, who never die. This was their end."
When Roberto Saviano wrote the chilling description above, he was a typical young Italian student. He rode a moped, shared a student apartment with others, blogged for a semi-anarchistic site, and occasionally sold articles about his hometown, Naples, to left-wing newspapers, which don't pay much even in Italy.
Not anymore. Those sentences became the opening passage of his first book, which he published just over a year ago. So far, 800,000 copies have been sold in Italy, and the book has been translated into several languages, including English, French and German. It has been made into a movie in Italy, and a Hollywood version is in the works.
But Saviano cannot really enjoy his success. He lives under round-the-clock police protection; during his last seaside vacation, he was accompanied by five policemen. That is what happens to someone who writes the truth about the Italian Mafia.
The name of his book, "Gomorra," a play on words, is Italian for the biblical city of Gomorrah and reminds every Italian of the Camorra, the mafia that controls Naples and the surrounding district. Saviano has written a book about the Camorra and its "Economic Empire and Dream of Domination," the book's subtitle. It is one of the most impressive books ever written about a crime organization, certainly in Italy, and perhaps in the world. The book combines great literary talent, a vast investigation, exceptional courage and a reality stranger than any fiction.
The name certainly is fitting. The book depicts Naples and its neighboring cities in the Campania region as the contemporary embodiment of the biblical Sodom and Gomorrah. The similarities are not coincidental. In a telephone interview, Saviano tells Haaretz that he received a Jewish education, and that his grandfather taught him "Torah." And the name Gomorra is a kind of gesture to his grandfather. It is also a gesture to Don Peppino Diana, a priest in the town of Casal di Principe, who preached against the Camorra and warned the faithful that their hometown was turning into a modern "Gomorrah" - until March 19, 1994, when unknown assailants entered his church and fired five shots at him, two directly into his face.
Last week, Saviano returned from a visit to Germany to mark the publication of a German translation of "Gomorra." The book has been a dazzling success. Within a week, 70,000 copies sold. This time he benefited from coincidence - a little over a month ago, hired assassins were sent to eliminate six Italians at the entrance to a restaurant in the city of Duisberg, in western Germany. The targets were all natives of the village of San Luca in Calabria, south of Naples. This was the continuation of a family feud that started when an egg was thrown at a member of one family during a village carnival 15 years ago, and it would not have reached where it did had the two families not belonged to the Ndrangheta, the Calabria district mafia.
This massacre agitated the public in Germany and in Italy as well, and reinforced what Saviano argues in his book: The Camorra and Ndrangheta families are huge financial empires that have developed two parallel spheres of operation. One entails illegal activities including drugs, prostitution and extortion; the other involves strictly legal operations. The Camorra, Saviano says, is a very sophisticated unit. Its member families have mountains of cash from drug deals, tens of millions of euros - ten times the annual turnover of the Benetton Company, for example. Some of this money is invested in legitimate businesses such as concrete, waste recycling and even haute couture. The legal operations are actually conducted far away from Naples, in northern Italy or elsewhere in Europe and in the United States. And if someone tries to interfere with the operations, legal or illegal, of the Camorra families, they get rid of them. This violence is a clear-cut extension of their business operations. That is what happened in Duisberg.
Epic figures
It was not easy to arrange to talk with Saviano, and not because he has developed the mannerisms of a celebrity. He hasn't. Gianluca de Feo, Saviano's editor at the weekly L'Espresso, where Saviano is currently a journalist, says he has not changed. What has changed is that the young and carefree student has become the most carefully guarded man in Italy. Five armed policemen monitor his every move. He lives in almost total isolation. Every outing to a restaurant is a complex logistical decision. The police say that based on wiretaps of leading Camorra families' calls, they have clear evidence that a death sentence has been issued against Saviano. His great sin is not that he wrote a revealing book about them, but rather that the book is successful.
I initially tried to interview him some months ago when I was in Rome, after I had read his book. He gives few interviews and had yet to give an interview to an Israeli paper. He is very difficult to reach and of course, he cannot be called directly. He was suspicious at first, and only after I returned to Israel was I able, thanks to a personal acquaintance with de Feo, to reach Saviano and talk to him.
Saviano, now 28, sees himself first of all as a writer. But as a writer who was born in Naples and lived in Casal di Principe, the heart of Camorra territory, he had a burning desire to tell the real story of his land. The Camorra kills 300 people a year in Naples and its surrounding district, both criminals and innocent civilians. In the gang wars in Secondigliano, a town near Naples, 80 people were killed over the course of a few days in May 2004. Saviano himself, riding his Vespa scooter, saw armed gangs walking the town's streets. But outside his birth region, people were not aware of what was going on. So Saviano felt he needed "to write literature without forgoing the truth."
"I had many reasons to write the book," he says in a telephone interview from somewhere in Italy. "First of all, I felt this story wasn't being told the way it should be. I sensed a vacuum. On the national level, it was completely ignored. And I also felt that justice was not being served for the innocent victims. Even guys who weren't connected and were killed were written off as Camorra members, and that bothered me a lot. I wanted the book to be an act of acquittal. And in addition, these bosses intrigue me. I think they are the most epic figures of our era. And I, instead of denying the myth that is being built around them, wanted to dismantle it, piece by piece."
But the bosses you describe are very different from the bosses of Coppola and "The Godfather."
"Coppola's bosses dreamt of entering proper society through the money they made in criminal dealings. This perception is much despised by the bosses in the Naples area. It is considered a show of weakness, and fake. A Camorra member doesn't feel he is an enemy of society, he thinks he is an entrepreneur who uses every business opportunity in order to become a strong man. That is why he sees his business operations as parallel to his illegal operations. This dual arrangement is typical of the Camorra."
In this sense, the Camorra seems like a model of sophisticated capitalism.
"Undoubtedly, the mafias are the highest level of international capitalism. I'm not saying this from an ideological perspective. The entrepreneurial talents in the Camorra families are not found anywhere else. When the Berlin Wall fell, the first entrepreneurs to arrive in Eastern Europe were mafias, the Camorra and the Ndrangheta. But their capitalism is suicidal. No family is eternal, no family wins every time, all of them at one stage or another are arrested or killed, and their reign is very short."
One of the most shocking scenes in "Gomorra" illustrates how capitalist thinking has been integrated into the Camorra's everyday operations. One of the Camorra's innovations, relates Saviano, is quality control. Therefore, when a new shipment of heroin arrives, the Camorra members must inspect it before they distribute it throughout Italy and Europe. They don't want to hurt their regular clients. To that end, the local pusher spreads a rumor that they're distributing free heroin, and the local addicts show up and get the new stuff. Saviano describes how he saw a Camorra member standing over a junkie's corpse and reporting on a cell phone, apparently to one of his supervisors: "He's dead. We have to refine everything a lot more."
"When I observed this scene," Saviano recalls during the interview, "it seemed routine to me, nothing unusual. Presenting certain events on the page lets you stop and deal with them, but in the course of life they seem like something completely normal and even marginal."
Many of the people Saviano knows joined the Camorra - not necessarily as hired assassins, but as drivers, tailors at the mob's elite sewing factories, and petty smugglers. The terrible thing, he says, is that the Camorra enables you to be who you really are. A violent man receives legitimization for violence; a small-time merchant can be a big-time merchant. And what's just as terrible is that there is almost no way out.
"It's not that Camorra members don't fear dying," says Saviano, "but they know that death is part of the business, that it will come, in one way or another. Many modern Neapolitan songs tell of a Camorra member who feels that his life is about to end, that eventually he will be murdered, and he wants to go back, wants to work as a building doorman, anything in order not to die. But he knows that he will pay, with jail time or with his life."
Saviano also knows that he may pay with his life. In all the interviews he has given, he has said that he is not afraid of dying and that the only thing he regrets is that his family is also in danger.
The question is whether the book was worth the risk, whether he may be able to change something. Saviano is skeptical. He does say that the Camorra and the Ndrangheta benefited from having the spotlight fo1cused on the Sicilian mafia and not on them, which allowed them to operate in relative quiet. Now this quiet is over. But he is not optimistic. "Because of the book, lots of people can now read about certain aspects of this reality," he says, "but politically speaking, there has not been any turnaround."
Last Monday, a few days after our conversation, Saviano had a chance to ascertain if indeed anything had changed. Under tight security, he came to speak in the main plaza of Casal di Principe. Hundreds of young people came to hear the writer who a year earlier had urged residents "to expel the bosses" and mentioned them by name. This time Saviano was more tempered. "We have a right to happiness," he told the applauding young crowd, "and in this stricken country, that means not dying in the workplace. The power to resist the power of the families derives from the talent of the citizens here: You must choose which side you are on."
At the edge of the plaza stood a group, the young entrepreneurs group, they called themselves. They had already decided which side they were on. "The Camorra doesn't exist," they told the journalists. Nicola Schiavone, the patriarch of the legendary crime family, was standing amidst them.
The allure of Sabbatai Zevi
Toward the end of the interview, I quote for Saviano a line he wrote in his blog three years ago: "I have Jewish origins." For the first time in our conversation, Saviano sounds perplexed. "I wrote that?" he asks, and laughs. "Yes, on my mother's side, I did some research and discovered that she has Sephardic roots. My grandfather taught me about Judaism, taught me Torah. I was very intrigued by Sabbatai Zevi, I was very interested in the Jewish anarchist movement. That's the environment I grew up in, but I never wanted to publicize it. That's the last thing I need. In Italy, it will seem like something esoteric, it was a slip of the pen."
You received a Jewish education?
"Yes, I was raised on that. I was brought up on Jewish stories. Primo Levi - not the public figure, but Primo Levi as a counselor - is the man who comforted me in the most difficult moments. In 'The Drowned and the Saved' he relates that in Auschwitz many people dreamt they were returning home, sitting down to eat and at the table they tell what happened to them and as they are describing their experiences, they see the faces of the diners turn skeptical, as if they are saying to themselves, well, really, these things can't be real. I swear to you that many times I dream that I'm going to deliver a lecture, to present the book, and people won't believe it. My nightmare is of me talking and talking, and people saying: 'No, no, it can't be, it's not reasonable, such things can't happen.'"
Did this happen to you in real life?
"Sure. Many, many times."
ICYMI
Ken Burns' Brilliant 'The U.S. and the Holocaust' Has Only One Problem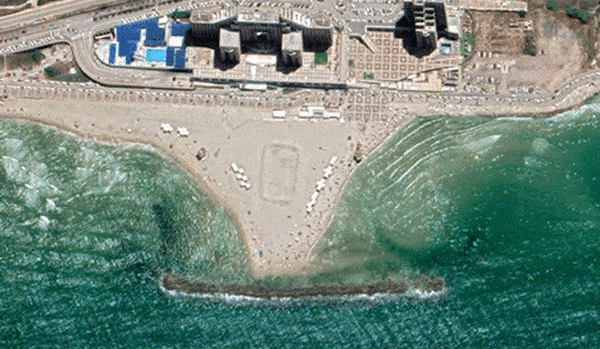 Facing Rapid Rise in Sea Levels, Israel Could Lose Large Parts of Its Coastline by 2050
Lapid to Haaretz: 'I Have Learned to Respect the Left'
The Mossad's Fateful 48 Hours Before the Yom Kippur War
As Israel Reins in Its Cyberarms Industry, an Ex-intel Officer Is Building a New Empire
How the Queen's Death Changes British Jewry's Most Distinctive Prayer