Dankner: Editor's Cut
Amnon Dankner says he's a patriot, admits he dealt personally with articles about his friend the prime minister, and declares he has a sense of humor. 'I hope,' he writes, 'that I do not come across as a shoe fetishist'.
W On the failure to overtake Yedioth Ahronoth and the steep drop in circulation: "In the six years in which I edited Maariv, I was privileged to work with brilliant, creative young people, with whom my daily contact brought me pleasure and intellectual challenge. But, alas, I also had the opportunity to observe a procession of figures who darkened my spirit and provoked pessimistic thoughts about the quality of those working in the press. It was a procession of people whose overarching pretensions were matched only by the dearth of their ability, and whose diminutive talents were matched by their gargantuan malice. There were also a few among them who, for a brief time, managed to hide serious personal disorders. I tried to get rid of that whole group - some of whom starred openly or anonymously as sources in your article - during the first years, and the results were not long in coming: Many journalistic achievements, a mass defection from Yedioth Ahronoth to Maariv, knowledge that the gap between us and the great competitor was narrowing, and the assessment that we were on a roll toward closing the gap.
"In the spring of 2004, with all of us delighted with the new situation of Maariv, I was summoned one day to the office of Ofer Nimrodi and found there also the minority shareholder, Vladimir Gusinsky. It was obvious that they had had a rough conversation. It turned out that Gusinsky was demanding terrible cuts in the editorial budget. I warned that such cuts would hurt the paper and act as a boomerang, because not only would the situation not be balanced out, but the paper would also suffer heavy losses. My deputy, Avi Bettelheim, approached Gusinsky, and he too was of the opinion that the cuts would deliver a mortal blow to our momentum. Gusinsky was adamant. What about our dream of passing Yedioth in terms of circulation, Bettelheim asked Gusinsky. And he gave him a smile and said, 'Young man, that is your dream, not mine.' That was the start of the process that blocked the momentum we'd gathered and sent us into a regression.
"In this new situation I could have left, but I decided to try to cope with the tremendous difficulties and to stabilize the system amid waves of cuts and dismissals - this time of good people - and keep the paper alive. I wanted to leave a few times, because I was fed up with being perceived by many as the bad guy who was firing people left and right and cutting back sections of the paper. But I was asked to stay on, and I understood that this too was a great challenge, albeit a thankless one, which brought about a type of grim satisfaction: In the most difficult circumstances the paper is alive and kicking, and functioning. This can't be taken lightly - those who know what went on at Maariv know how unnatural things were."
W On Ehud Olmert: "I admit to the double sin of being a friend of Olmert's and also of thinking that he has a great soul, is an efficient, intelligent person and an excellent prime minister, and not corrupt. Besides that, I am the editor of the paper, and every week I edit, revise, guide and comment, and I do not view the position of editor as something passive which involves sending things on to the printer. Too often the newspapers contain a fatal mixture of ignorance, malice and agenda, and whenever I spotted those things I weeded them out. Olmert is not the only one about whom I changed or rewrote articles.
"I do not keep myself from handling material having to do with friends or acquaintances, for good or for ill. As long as I do the job honestly and fairly, I have no problem with myself. Everyone knows about the Ginossar affair, in which I could have easily prevented a terrible report about a person who was a dear and close friend. Olmert, too, was angry with me on no few occasions when I ordered that reports hostile to him be given big headlines. It goes without saying that there is absolute freedom at Maariv to write against Olmert, as can be attested to mainly by Dan Margalit, not a word of whose did I delete or make a comment about, even though I very much disagreed with him.
"As for the joint interview with Eral Segal, I was asked by the editor at the time, Yaakov Erez, to accompany Segal, because the relations between Maariv and Olmert were strained, and I was told that my presence would have a calming effect because of my good relations with Olmert."
W On the revolving door at the weekend magazine: "At the outset of my tenure, a relative with substantial managerial experience in the United States told me that I had to know that some of the appointments I would make would be excellent and others bad. That's the way it is, and you can never know in advance, even if you have checked everything and think the candidate is superb. The key, the man said, is not to fall in love with your mistakes and make the cut immediately when it turns out you were wrong. I do not intend to shame others in public - after all, this article is about shaming me - and provide information about why each of the editors of the weekend magazine was removed. I will say only that there were good reasons, regrettably.
"In contrast to those appointments, I was very successful in the appointment of three young senior editors: Ron Leshem, Hilik Shrir and Uri Rosen. I am also proud of the appointments of Rafi Rosenfeld in the economic section, Yoav Golan in sports and Lisa Peretz in the 'Style' magazine. I am also pleased with the appointment of Rafi Mann as editor of the weekend supplement and of Ben Dror Yemini as op-ed page editor. I am proud to call myself a friend of Ben Dror's and his admirer."
W On his attitude toward the staff: "In all my years at Maariv I never raised my voice and did not use harsh words about anyone on the editorial board. A daily paper operates naturally at high temperatures, and from the people who came to us from Yedioth I heard unpleasant stories about shouting, threats, intimidation and suspensions. I cannot abide that method. I cannot bear to have voices raised or curses and abuse - not as a listener and not as a target. Only two people can testify that I did in fact raise my voice at them and also hung up the phone on them, and they are not from the paper, but editors at NRG who entered the system against my will, sowed destruction and stupidity, and made me absolutely furious. Those are the only two in six years of work. Not exactly the Stalin of Carlebach Street, eh?
"As for the insults that all kinds of people with sensitive and self-righteous souls felt when they heard what I had to say to them, that also astonishes me. As far as I understood, work on a newspaper - where the achievements and the failures are open for all to see every day - requires postmortems and self-criticism (including mine of myself). If someone was offended because his superior rebuked him for major errors, sloppiness or folly, but he himself is not afraid, as an editor or a journalist, to level stinging criticism at public figures - then he should examine his double standards.
"As for the anonymous reporter who talked about my fondness for [personnel-related] earthquakes - yes, I thought in the first wave of shakeups that I fomented at the old Maariv that, along with the unavoidable damage, the benefit would be that inefficient, idle and sloppy employees would learn that there was a price to be paid."
W On tossing his shoes: "Regarding the shoe games, I admit that I sometimes like, especially during the long nights at work, to fool around and even to monkey around, in efforts to break down the distance with editorial employees. That was the framework of this little game (which I learned in army reserve service), together with a few employees who at the time took part with loud cheering and today complain that they felt like battered women. The poor unfortunates, really. I can only shed a tear for their terrible suffering."
W Criticizing editors in broad forums: "I confirm the facts, but with a different interpretation. I cannot abide factions, cliques and badmouthing in the corridors, and also not negative evaluations expressed about this or that product of the paper, without the person in charge of the product being given the opportunity to hear the complaints and respond to them. I think it is very important for people not to become victims of whispering campaigns, and instead to be able to explain themselves to their critics. That is the reason I convened gatherings like that on a number of occasions - sometimes spontaneously. Sometimes it was not so pleasant, but it was very necessary."
W On the reactions to Bettelheim and his article: "I am a bubbling person with a sense of humor and enjoy exchanging jibes with people. My relations with Bettelheim were a model of friendship between two people with utterly different personality traits, but who nevertheless succeeded in coexisting, amid intensive work, without quarrels and without tension. The secret of the connection between us, apart from our common love of Indian food, is the sense of humor of both of us.
"As for the incident mentioned in the article, the description is completely distorted. I held many talks with one of the editors about having to respect the text and nothing else, including the person who wrote it. One day this person came into my office and I wanted to give him a lesson in this. On my screen there happened to be an article by Bettelheim, who has many good traits, but does not write brilliantly or resonantly. I quickly changed the name of the writer to my name and told the editor, 'I want you to read this text, and a great deal of what I will think of you depends on what you will say about it.' He started to read and after a few minutes said, in a dramatic tone, 'Already after 20 lines I can tell you that this is a formative text.' I laughed and told him the truth. He was in some kind of shock. It was not meant to be a joke at Bettelheim's expense, but a trick at the editor's expense, and I hope he learned personally the importance of a clean approach to texts, and maybe also something about the dangers of sycophancy."
W The right-wing line he introduced: "Yes, I edited a more patriotic paper than others, and yes, I also rejected covers and interviews that were used by writers and editors with a pro-Palestinian and anti-Israeli agenda. That is exactly why I am the editor of Maariv and was not privileged to receive from [former PLO] chairman Arafat an appointment to be editor of the PLO mouthpiece."
W On the leaking of the dismissals to Ha'ir: "Contrary to a prevailing but incorrect image, I did not make decisions alone, but always in consultation with the senior level of the paper, which included my two deputy editors and two or three other senior people. That goes also for removing people or firing them. Regrettably, there were sometimes leaks from that forum, most of them not malicious."
W On Ron Maiberg: "I hope I do not come across here as a shoe fetishist. It is true that I knelt down before Maiberg (there is no need to exaggerate - there was no kissing of feet). It was done in jest, in one of my attempts to get him to work for Maariv after he seemed to have finished with his personal problems. Again I need defense here against tight-assed self-righteousness and must declare that I am a jester type, and sometimes a theatrical type, and even the gloomiest prudes will not succeed in robbing me of my joie de vivre or of my fondness for tricks. It is also true that I called him a 'force of nature,' because that is how I see him: as a tremendous natural writing talent who can let flow large amounts of wonderful words, but is also capable, unfortunately, of destructive floods (especially against himself) and of painful periods of drought. As for his remarks about my tenure, he is entitled to his opinion, and I will comment only that I have never fallen in love with authority and power. They do not interest me in the least."
ICYMI
Ken Burns' Brilliant 'The U.S. and the Holocaust' Has Only One Problem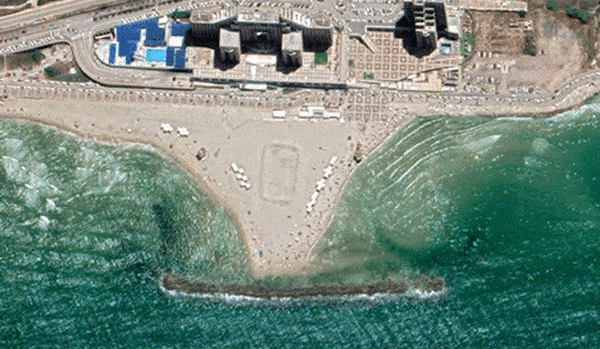 Facing Rapid Rise in Sea Levels, Israel Could Lose Large Parts of Its Coastline by 2050
Lapid to Haaretz: 'I Have Learned to Respect the Left'
The Mossad's Fateful 48 Hours Before the Yom Kippur War
As Israel Reins in Its Cyberarms Industry, an Ex-intel Officer Is Building a New Empire
How the Queen's Death Changes British Jewry's Most Distinctive Prayer