State Prosecutor: Katsav Plea Deal Hangs on Court Testimony
Shendar says President must admit to sex crimes, cannot cite concern for his family as reason for confession.
Hours after President Moshe Katsav submitted his resignation over admitting to sexual crimes in a plea bargain, State Prosecutor Eran Shendar threatened Friday to cancel the deal unless he admits to charges in court and refrains from citing familial considerations for accepting culpability.
Shendar's statements came in response to a remark by Katsav's lawyer Avigdor Feldman saying he and the President's aides "forced him to sign the deal" despite his disapproval, as well a comment by Katsav's son to Channel 2 alleging the deal was reached due to his mother's fear of legal procedure.
The State Prosecutor presented a slightly refined indictment against Katsav to the Jerusalem Magistrate's Court that included the said stipulations.
He added that Attorney General Menachem Mazuz knew his decision to reach a plea bargain would not fair well with public opinion, but said he condoned his decision nonetheless.
Earlier Friday, Katsav submitted his resignation to Knesset Speaker Dalia Itzik, a day after agreeing to plead guilty to sexual harassment, forcible indecent assault and harassing a witness, as part of a plea bargain that struck rape charges from the indictment.
The resignation cuts Katsav's term short by only two weeks.
"My term of office ends, in accordance with the law, on [the Hebrew date] 28 Tamuz 5767, July 14, 2007, but I am requesting to end my term two weeks early and am announcing my resignation," Katsav wrote.
The resignation will go into effect Sunday morning, at which point Itzik will become acting president until Shimon Peres takes office on July 15.
Meanwhile, organizations representing women and sexual assault victims were planning to hold a rally at Tel Aviv's Rabin Square on Saturday night to demand that the plea bargain be revoked and Katsav be tried on rape charges, Israel Radio reported Friday.
Attorney General Menachem Mazuz noted that the charges carry a total maximum sentence of 10 years, but defended the prosecution's recommendation that Katsav receive only a suspended sentence. However, he added, the court "has the right to reject the sentencing agreement and decide on a different sentence."
Mazuz said Thursday that the inclusion of rape charges in the draft indictment was the lever that enabled the plea bargain, signed on Thursday, to be reached.
Had a plea bargain not been signed, however, these charges would have remained in the indictment, he added.
"The rape charges were not simple, and we could not state with certainty that we would have achieved a conviction," Mazuz told a Jerusalem press conference. "However, we thought there were grounds for an indictment on rape charges. That was the lever for creating the plea bargain."
Mazuz, who tried for more than an hour to explain why the plea bargain eliminated all charges of rape or other offenses involving sexual intercourse, even though the draft indictment had contained several, insisted that the result was not a failure.
"I would have seen it as a colossal failure had we reached the conclusion that the complaints against Katsav were slander," he said. "I would have seen it as somewhat of a failure had we been forced to close the case [due to insufficient evidence], even if we believed the complainants were telling the truth.
"But when, after a long and difficult road, we achieve a conviction - and not a minor conviction - we have achieved the main goals of the process," he insisted, stressing that Katsav, who initially claimed that all the complaints were false, will now be convicted, by his own confession, of sexual harassment, forcible indecent assault and harassing a witness.
"If there is one thing certain in this case, it's the fact that President Moshe Katsav lied during his investigation when he said that he did not have a [sexual] relationship with any of the complainants," Mazuz continued. "Granted, we had many questions about the substance of his relationship with the complainants, but we had no doubt that these relationships exceeded working relationships."
"It was clear that it would have been much simpler to file a [rape] indictment," Mazuz continued. "But my job is not to satisfy this or that element of the public; it is to make the correct decisions - even if they spark criticism."
"An expectations gap was created," he acknowledged. "There are those who say that the mountain of evidence produced a molehill. But such statements are completely nonserious. The bottom line is that we have a president convicted by his own confession of nontrivial sexual offenses ... Ask yourself where Katsav was a year ago, where he is today, and where he will be tomorrow: from the status of our first citizen to a convicted sex offender, with all the personal and public shame that entails ... If that's a mere mouse, I don't know what an elephant is."
For a public figure, Mazuz argued, what matters most is the fact of being convicted, not the precise charges. "Without the plea bargain, there would have been a two- or three-year trial, and no one could promise us how it would end. Israel would also have paid an image price, since such a trial would have garnered media headlines worldwide. That would have damaged the public interest."
Mazuz said that Katsav's attorneys had presented some new evidence at the pre-indictment hearing he held for them, but "the hearing was not a dramatic turning point and did not alter the picture. It merely sharpened the questions and problems we were already aware of. We knew all along that the case was complex and problematic from an evidentiary standpoint."
Rape charges dropped Mazuz on Thursday claimed there was sufficient evidence to charge Katsav with rape, even though both counts of rape were dropped from the plea bargain that Mazuz reached with Katsav's attorneys.
Speaking at a news conference, Mazuz said that the prosecution discovered "problems with the evidence" that raised doubts about its ability to obtain a conviction. This, he said, was a major factor in the prosecution's agreement to drop the rape charges.
Mazuz said the indictment will include one count of forcible indecent assault, stressing that this is a "serious criminal charge." The president will also be charged with sexual harassment and harassing a witness.
"The president will plead guilty to three charges and will receive a suspended sentence and be ordered to pay compensation to the complainants," Mazuz said, adding that while many other complaints had been filed against Katsav, most were either difficult to prove or the statute of limitations had run out.
According to the agreement, Katsav will plead guilty to forcible indecent assault against a complainant who worked under him when he was tourism minister. He will also admit to sexual harassment of another complainant who worked for him in the President's Residence. However, the indictment will include no charges relating to another employee of the President's Residence, A., who was the first to file a complaint against him.
Justice Ministry sources noted that the one felony to which Katsav will plead guilty - forcible indecent assault - carries a maximum penalty of seven years in prison. Nevertheless, the agreement says that the prosecution will ask the judges to impose only a suspended sentence plus payment of compensation: NIS 35,000 to the former Tourism Ministry employee and NIS 15,000 to the other complainant.
Katsav will also pay the state NIS 15,000 for silver goblets belonging to the President's Residence that he allegedly gave as personal gifts; in exchange, all charges relating to that offense will be dropped.
The negotiations over the plea bargain began about a month ago, shortly after Mazuz's hearing for the president's attorneys. But Mazuz rejected the defense attorneys' initial proposal, which was to close the case in exchange for the president's resignation, as had been done in Ezer Weizman's case. He insisted that an indictment of some kind must be submitted, and that it must include both more than one sexual offense and more than one complainant, "to reflect the serial nature of the acts."
With regard to the Tourism Ministry employee in particular, he also insisted that the indictment show that Katsav had committed a large number of indecent acts over a period of time, rather than an isolated act.
Mazuz said he believes the agreement was in the public's interest. "This agreement minimizes the harm to the institution of the presidency," the attorney general said. "It was important to spare Israel the sight of a president on trial."
ICYMI
Ken Burns' Brilliant 'The U.S. and the Holocaust' Has Only One Problem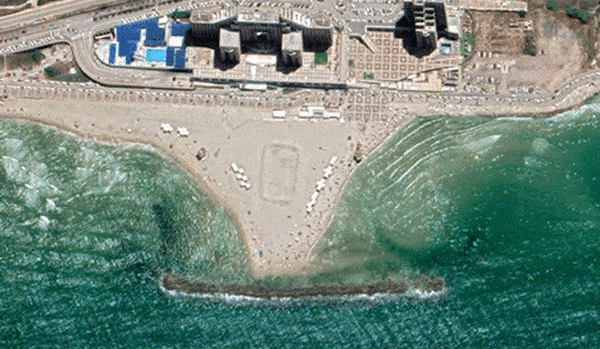 Facing Rapid Rise in Sea Levels, Israel Could Lose Large Parts of Its Coastline by 2050
As Israel Reins in Its Cyberarms Industry, an Ex-intel Officer Is Building a New Empire
How the Queen's Death Changes British Jewry's Most Distinctive Prayer
Chile Community Leaders 'Horrified' by Treatment of Israeli Envoy
Over 120 Countries, but Never Israel: Queen Elizabeth II's Unofficial Boycott