The Other Life of Zvi Yanai
A Jew and a candidate for the priesthood, a fascist youth and a kibbutznik, a clandestine Christian, a paratrooper in the IDF and a celebrity who has made a unique contribution to Israeli culture - Zvi Yanai is publishing a fascinating autobiography. It will be talked about.
Zvi Yanai has one of the most famous bald pates in Israel, but as a child he had long curly hair, and was so beautiful that an opera troupe that came to his town asked him to participate in a production of "Madame Butterfly." "I wasn't asked to sing, just to wave the American flag," he writes in his new book, "but the singer insisted on carrying me in her arms and singing at the same time. I was sorry, more because of Butterfly's suicide than because of the operatic failure." That was in Castiglione Fiorentino, which is located not far from Florence, in a valley where villages are scattered like bunches of flowers, writes Yanai.
A philosopher, autodidact and celebrity, now 71 years old, Yanai contributed to Israeli culture the ability to become enthusiastic about science and to understand it, through the IBM periodical Mahshavot (Thoughts), which he edited for years, as well television appearances and best-selling books. Now he is revealing his life story, in an autobiographical novel that is written in the form of correspondence with a lost brother. It is based on a bundle of letters that tell the story of the family, but which also lack a great deal of information, and contain contradictions, lies and secrets; Yanai investigated them as though they were archaeological scrolls.
The result is a captivating book, very restrained, almost scientific, sad without self-pity and ironic without bias, skeptical, involved and alienated. There are many Israelis with amazing life stories, but Yanai is to be envied: Most people don't know so much about their families. Not many know how to make such use of letters they inherited from their parents.
He spent his childhood in fascist Italy. His parents were traveling artists: His father was a baritone singer from Budapest, his mother a prima ballerina from Gratz, Austria. They were not married. His father was a Christian, his mother came from a Jewish home but Sandro, as he was then called, was educated as a Protestant and in 1942 was converted to Catholicism and studied for the priesthood. He also managed to wear the uniform of Mussolini's youth movement; he has a photograph of himself as a little boy giving a fascist salute.
"My mother was a pretty woman, 18 years younger than Father, elegant, with a good figure, fair hair and amazing legs," he writes. "Her chest was too small for her to be sexy, but she was blessed with that same indefinable natural gift that is usually called 'chic.'" He learns this from her photographs.
His father offered his services to the Fascist propaganda machine and then somehow disappeared, just as his brother Romulo disappeared mysteriously. Among the family documents is Romulo's death certificate but according to later testimony - who knows? - he may still be alive. Yanai's mother then made a living as a translator in the service of the Nazi Wehrmacht. Yanai heard that she would give advance warning to Jews earmarked for deportation, but he writes: "I really want to believe that story, but I doubt its authenticity."
When he was eight years old, his mother died. "She lay on her back," he recalls. "Her eyes were closed. A light-colored blanket was stretched over her body. Someone urged me from behind to approach the bed and kiss Mother. I was afraid that her death was contagious, but knew I had to fulfill my duty. Her face was yellow and her forehead was cold. She was 32 years old when she died, but she looked younger than her age." The members of the Wehrmacht gave her a proper Christian burial.
Prior to that and afterward, U.S. Air Force planes bombed the town, it's hard to know why, maybe by mistake. Over 100 civilians were killed, including about 20 children. Sandro and his two sisters stayed with their governess. At night he used to sneak into the doghouse of their Italian neighbors, switching the moldy bread he received from the Germans with bread that the neighbor baked for the dogs. At the initiative of the concerned Wehrmacht members, he and his sisters were almost returned to Hungary. The Jews of Budapest were about to be deported for extermination, but maybe there as well they would not have discovered that the children's mother was Jewish. Their governess objected, and during the two years until the end of the war she managed to take care of them somehow.
Toward the end of the war, soldiers from the Jewish Brigade (a voluntary unit in the British Army composed of volunteers from Palestine) came to Italy from Palestine, where their uncle lived. Only now did Sandro discover that he was Jewish, in other words "something inferior, only slightly higher than the Gypsies whom everyone considered thieves and kidnappers, people who were not scrupulous about cleanliness." But he does not remember how he reacted to the sensational discovery. While he was still under the influence of his mother's death, he would not have been excited even had he been told that he was Chinese, he wrote. He was sent to Kibbutz Ramat David.
It wasn't easy for him in the kibbutz, the children harassed him because he didn't know Hebrew and was not circumcised. His sisters prayed in churches in Haifa. On Christmas he secretly held a short mass with them, using Hanukkah candles. He imagined that the Anusim (crypto-Jews in Spain and Portugal) had done the same, and was afraid of being deported from the country, since he did not yet know then how to be a Jew. Eventually he was circumcised and he Hebraized his name, served in the Paratroopers, for a while even in the standing army, and became the director general of the Ministry of Science. "Chance rules our lives, we could all have had different lives," he muses.
Concerning his present identity, Yanai writes: "As an atheist I do not feel religious affiliation with the Jewish people, but rather a historical connection. I can relate to the mourning on the 9th of Av as an event of historical significance for the Jewish people, but definitely not as a day of fasting and lamentation over a Temple that was destroyed 2,000 years ago.
"I am committed to the survival of the State of Israel as the state of the Jewish people; however, my identification with the country is not unconditional. It will be maintained as long as Israel insists on the basic freedoms and rights of all its citizens, as long as it operates in the context of recognized and agreed-on political borders. It will evaporate when Israel stops being a democratic country and loses its humane and liberal values. In other words, my identification is first and foremost to my Israeliness and not to the Jewishness in me."
A main character in the bundle of letters he has is his grandmother, who remained in Gratz. "She is a Jewish mother in the best tradition of Jewish folklore," writes Yanai. "Annoying, self-pitying, demanding, opinionated but always loving." She had a salon for undergarments. Her final letters are hair-raising: She tried repeatedly to leave Austria, guessed what was awaiting her if she remained, but was unable to obtain a suitable visa; various consuls and immigration officials are portrayed in these letters as masters of life and death. The Nazis deported her to Poland; her last letters came from Lublin and she may have been murdered in Maidanek.
A bit of "The Garden of the Finzi-Continis," a bit of Roberto Benigni's "Life is Beautiful," this book combines the absurdities of Italian opera with secular Israeliness and historiographical musings on the vicissitudes of Jewish destiny and of man in general: "I understood that we tend to exaggerate in our assessment of our freedom of activity and in enumerating the levels of freedom at our disposal. When we arrive at a crossroads in our lives, we choose once again; usually we choose the paths that have been dictated to us in advance by our fears and our leanings," writes Yanai.
"Shelkha, Sandro" ("Yours, Sandro") is due to arrive in bookstores next week. It will be talked about.
Arnon Sofer, a professor of geography and the head of the chair of the Geo-Strategy Department at Haifa University, has for many years been instilling us with the fear of the demographic demon and thus supported the disengagement from Gaza, despite everything; he claims that the idea was his, and that former prime minister Ariel Sharon adopted it. Fifteen months before the withdrawal Sofer was interviewed by Jerusalem Post reporter Ruthie Blum, and gave her a forecast of what would happen as a result of the withdrawal.
"The Palestinians will bombard us with artillery fire - and we will have to retaliate ... If a single missile is fired over the fence, we will fire 10 in response. And women and children will be killed, and houses will be destroyed ... When 2.5 million people live in a closed-off Gaza, it's going to be a human catastrophe. Those people will become even bigger animals than they are today, with the aid of an insane fundamentalist Islam. The pressure at the border will be awful. It's going to be a terrible war. So, if we want to remain alive, we will have to kill and kill and kill. All day, every day."
The professor knew whereof he spoke. Therefore I asked for an assessment of the chances of the cease-fire that was arranged this week. Sofer replied that he is amazed how intelligent people can be so naive: The Palestinians in the Gaza Strip are broken, desperate, and radical Islam supports them, why should they agree to a cease-fire? That means that in the future too, Israel will have to kill and kill and kill, all day, every day. "There's no hope," said Sofer. "There's no hope."
But he is referring only to peace, not necessarily to the demographic situation. Because in his estimate, the humanitarian disaster in Gaza will lead to a situation where the Palestinians in the Gaza Strip will leave. Because they cannot go out to work in Tel Aviv, they will have to look for work in Iraq, or in Kuwait or in London. Sofer described the process as "voluntary transfer."
Last Thursday Fatma a-Najar from the Jabalya refugee camp tried to blow herself up, but soldiers identified her from a distance and killed her. She was 57 years old, a grandmother to over 40 grandchildren. The Reuters news agency distributed a picture of her in a heroic pose before embarking on her mission; the picture justifiably appeared on the front page of Haaretz.
Reader Eliezer Yaari, a journalist and writer, director general of the New Israel Fund, examined the picture carefully and noticed an amazing detail: Grandma's rifle bore Hebrew identification letters: IDF. Yaari writes a blog called "On the brink, report from the mouth of a volcano." He walks around the area of Armon Hanatziv in Jerusalem, and shares with his readers what he sees and thinks. And this is what he wrote when he noticed Grandma Fatma's Israeli rifle:
"The legacy of the grandmother who was born as a refugee during the first year of refugeeism, as compared to my legacy, I who like her was born 57 years ago, during the first year of independence, freedom and the end of refugeeism. Is there nothing left to talk about? Am I also a suicide waiting for a suicide bomber? Is that it? ... And I think about the director of death who stood in front of the camera, the man from Reuters or just some official from the draft board of the Al-Qassam Brigades, who in addition to the suicide poked a finger in our eye: Here is our suicide bomber, with the rifle taken as loot from you. From whom? Perhaps from [kidnapped soldier] Gilad Shalit? Perhaps from those killed on the Philadelphi route? This is the revenge of the suicide bombers and the desperate. And they also turned 57 this year."
ICYMI
Ken Burns' Brilliant 'The U.S. and the Holocaust' Has Only One Problem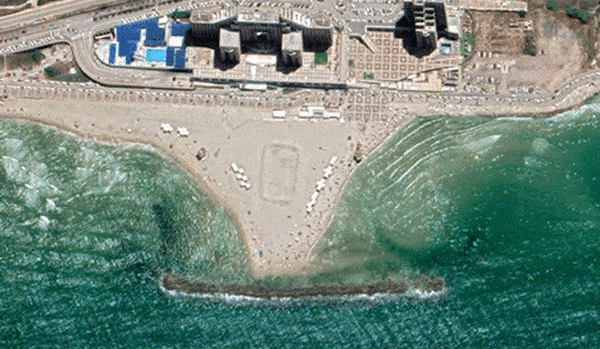 Facing Rapid Rise in Sea Levels, Israel Could Lose Large Parts of Its Coastline by 2050
As Israel Reins in Its Cyberarms Industry, an Ex-intel Officer Is Building a New Empire
How the Queen's Death Changes British Jewry's Most Distinctive Prayer
Chile Community Leaders 'Horrified' by Treatment of Israeli Envoy
Over 120 Countries, but Never Israel: Queen Elizabeth II's Unofficial Boycott