'If That's Madness, What Is Sanity?'
When Kobi Wolf showed up at Bat Yam's Abarbanel psychiatric hospital with a camera, the guard at the gate wanted to hospitalize him. The result was a photographic exhibition that offers an inside look at a closed institution.
"There's a guy here who looks a little ... you know ... He says he has an appointment with you and wants to go into the hospital with photographic equipment," the guard at the entrance to Abarbanel Mental Health Center said by phone to Esti Ben Artzi, the director general of Sa'ad Laholeh (the Aid for the Infirm Association). "I told him that he can't go in with a camera. What should I do with him?"
This conversation, which took place a little more than two years ago, is not unusual at Abarbanel. No fewer than 4,000 people a year seek hospitalization at their own initiative in the veteran psychiatric facility in Bat Yam. About half of them are admitted. On that occasion, however, Ben Artzi was in fact waiting for the visitor, a young man named Kobi Wolf, who had called and sought work as a therapist or a guard in one of the hostels for rehabilitating mental patients, established by the organization of friends of the hospital under her management. She knew nothing about the photography equipment. In the meantime Wolf waited patiently outside.
"The camera goes with me," he told the guard. "I have entered every place in the world with it, and I will enter this place with it, too."
The guard smiled: "This is a psychiatric hospital. No one will ever enter here with a camera. Photography is not allowed here. You're wasting your time, because it's just not going to happen."
Ben Artzi arrived. The dialogue repeated itself. He had not come to take pictures, Wolf explained. He had indeed come for a job interview, and wanted work as a guard or therapist. But he was a photographer and the camera was "an organic part of his body." He was unwilling to leave it anywhere or with anyone. The guard and the director general were at a loss.
A social worker and therapist herself, Ben Artzi was about to send Wolf on his way, but was moved by his passion and stubbornness. As long as the camera was packed in a bag and he was with her in the office, what could happen? A phone call, then another, to the hospital's director and to the security coordinator, and Wolf, armed with his camera, was in.
If anyone had told Prof. Yehuda Baruch, the institution's director, or Ben Artzi or Wolf himself at that time that this incident would end with an exhibition of photographs documenting mentally disabled patients at Abarbanel - all three, including Wolf himself, would have sent him for observation.
This week "Pictures from Abarbanel" opened at the gallery of Masa Acher - School of Photography, in Tel Aviv. Wolf studied at the school and the exhibition is his graduation project. The 50 black-and-white photographs were subject to strict restrictions. The faces of the subjects are blurred and hidden, to prevent any possibility of identification. A physician was always present when the photographs were taken and the patients cooperated voluntarily.
"I agreed to all that," Wolf says, "but I didn't really know what I was signing." The restrictions forced him to improvise. Faces were hidden by means of distinctive angles of photography, or with a newspaper, a book or cigarette smoke, via the play of light and shadow, through unfocused lenses, unusual cuts and profile shots.
The 50 photos were chosen from the 2,000 that Wolf took at Abarbanel over the course of a year. The choice was made by Wolf and his teacher at the school, the photographer Miki Kratsman, who is also the curator of the exhibition. Each of the photos displayed was scrutinized by the hospital's director and the association's projects manager, who was put in charge of the production by Ben Artzi. Every borderline photo that was considered problematic by the two, was disqualified.
"There were moments when I wanted to leave," Wolf admits. "The light and shadow [in a photo were] perfect, but it's ruled out because there is 'a bit too much' expression on the face of the subject. A nightmare."
It wasn't easy for Wolf to overcome the obstacle of Ben Artzi's suspiciousness and discretion. She suggested that they talk about the reason for the meeting: a job interview. But that didn't work. He came back to the issue of the camera. He talked rapid-fire, nonstop. He wanted to understand why they were making such a big deal out of a hospital for mental patients. Why everything had to be so hush-hush. He became increasingly worked up and claimed they were only heightening the public stigma about such institutions.
Ben Artzi started to ask herself what she had done to deserve this tirade. Wolf went on to tell her that he grew up in the adjacent city of Holon and that he always saw Abarbanel while on the way from one place to another. He has memories of scary talk about "that place" and years-long curiosity about what went on inside. She was about to end the interview, but he insisted on telling her that he was 28 and had spent five years in India, where he took pictures nonstop. He studied Buddhism in monasteries, tried to be a monk himself and did Vipassana. He then spent three years in the Far East and in New Zealand, South Africa and Ethiopia, where he documented remote tribes. He lived and moved about with them in all kinds of godforsaken places. And he never stopped taking pictures. He told her it was hard for him to talk and communicate. That's why he always did it through the camera.
Wolf told her he had returned to Israel only because his mother had been diagnosed with breast cancer. For years he had been distant from his parents - physically, emotionally and psychologically. In order to reconnect with them, he documented his mother's illness, stage by stage, chemotherapy treatments, everything, until she recovered. And that, too, occasioned an exhibition. He explained to Ben Artzi that photography for him was not just taking a camera and shooting. Above all, it was a social, personal, human thing. He sees himself as a social photographer, wanting to live and be what he photographs.
Nearly three hours went by. Ben Artzi saw someone opposite her who wanted to mend the world, and was persuaded.
"It's not that I didn't think of the idea before," Wolf says. "I did. Abarbanel, as a place, always attracted me. But it was only when they reacted as they did at the entrance that the penny dropped. I really did come looking for work as a therapist or a guard in a hostel. What happened that day was because of their resistance and hysteria at the sight of a camera. I go for that stuff straight away."
So the exhibition exists because they told you that you couldn't enter with the camera?
Wolf: "Yes. I couldn't think about anything else. I understood that it was not by chance that I arrived there, and that the time had come to burst once and for all the secret balloon of what goes on behind the frightening fence of that hospital. I wanted to show everything as it is, not to prettify anything. Not to hide things. To open the doors, to show."
How did you feel there during all those months?
"I felt good, as at home as possible. It's a place of truth. Without masks. People express what they feel and there is no playacting. I felt that I could be myself, too. Free. Relaxed. Natural. Abarbanel is the sanest place I've ever seen. No lying. No fibbing. You can be yourself. If that's madness, what is sanity? If that's being sick, what is being healthy?"
Did you examine the possibility that you have traits that allow you to reside naturally alongside people who are mentally ill?
"Yes. I have always been on the edge. I was always different. I communicate with people through the camera. It's hard for me without that. With girls, for example, it's always a problem. They always get scared and at some stage they leave. After this article there's no way that any girl will agree to be with me."
What was the hardest part of all this for you?
"The transitions between inside and outside. You learn the rules of the game, the internal codes of the place, internalize them, live them - and then you go out and don't remember to make the switch. It's very confusing. And then my questions to myself began, of course. If you are asking about my hurt, it's deep. If you are asking whether I was ever diagnosed with a mental illness, the answer is no. The hurt is serious and deep, but not defined."
By the time Wolf left Ben Artzi's office they had switched roles. He was, as he says, "relaxed, empty." She was "filled with inspiration and overwrought. I don't even remember who was first to put forward the idea of a photography exhibition. But I do remember suddenly seeing the possibility, a new project for the association."
Ben Artzi thought a month or two would be enough for him to do the photography; he told her a year. She assumed he would come twice a week to take pictures; he insisted on lodgings in the hospital grounds. He told her that only if he lived inside, as one of the patients, would he be able to break down the barriers and work. Which led her to join, albeit with a smile, the list of his diagnosticians: "Do you really think that anyone who is not seriously hurting would want to live at Abarbanel for a year?"
Prof. Baruch, the hospital's director, was enthusiastic when Ben Artzi told him about the idea. "I always believe that the public should know what goes on here," he says.
Baruch did not allow Wolf to live in the hospital, but did let him wander about almost unrestrictedly, including at night and in the closed wards, even in the electroconvulsive treatment room, subject to prior coordination and authorization of the directors of the wards. In the first days he was followed at every step. But the staff was surprised by the level of sensitivity and patience he displayed. For a month and a half he didn't take out the camera, just wandered around everywhere, letting the patients to get used to him, forging initial random ties. "There were walls that had to be broken down, both in them and in me."
With time the patients came to trust him more and more, and those who were in charge of him slackened the leash. A security officer even gave him a set of keys to the wards, in part for purposes of escape. The doors of the closed wards shut automatically, from the inside. If there is no physician in sight, the security man told him, and one of the patients were to attack him, he would be able to use the key to escape.
That never happened, Wolf says. "At first there were occasional verbal threats - 'I'll break your camera,' and even 'I'll kill you if you take my picture.'" Afterward, he says, the patients began to ask him to photograph them. They fell in love with the idea. Last Wednesday, a few patients who were lying on the lawn in the autumn sun called to him, "Kobi, nu, when will you take my picture? Come on, Kobi, just one. You promised."
Wolf has no idea how many hours he spent at Abarbanel. A rough guess is a few hundred. He is unable to express his high esteem for the director, the staff of the association and the physicians and therapists he saw at work. His opinions underwent a radical change.
"Yes," director Baruch sighs. "The stigmas, as always, are harsh and devoid of compassion." He tries to explain why he gave the project his blessing. "People imagine patients being tied up, beefy guys leaping on people. Electric shocks. And Jack Nicholson suffocating his pal with a pillow. Right? It's deeply engraved. I want to show that this is a place where there is mostly compassion and help. I believe we have nothing to hide.
"In terms of image, budget and the attitude of the state," he continues, "psychiatric hospitals are always at the bottom of the scale compared to 'regular' hospitals. In last place. Why? Because that's how it is. There are investments in oncology, heart disease, children's medicine, gynecology - but mental health isn't interesting."
Baruch supports the current reform, in which psychological treatment will be administered by the health maintenance organizations. He has always maintained, he says, that mental illness should be treated just like any other illness and that there is nothing to be ashamed of. An illness is an illness is an illness.
"The problem is that even the patients themselves say they would rather contract cancer than what they have. Parents of children who are hospitalized often tell me that they would prefer their child to have cancer - anything but mental illness. Everyone prefers a 'regular disease,' no matter how serious. People say a picture is worth a thousand words? I wanted people to see the wretchedness and the difficulty and the terrible suffering that mental illnesses cause. But also the humanity, the coping and the tremendous and unending desire of each patient to return to being a 'regular,' 'normal' person, like everyone else."
The wretchedness and the difficulty are strikingly apparent. The photographs are depressing. As for the rest of t he messages that Baruch hoped to get across, it's hard to say. There is not one photograph with a smile, nor any that express happiness, because faces cannot be shown. The body language generally suggests distress. A lack of vitality. No embraces are seen, no sympathetic contact, nothing optimistic. Many of the photos seem to have been taken straight out of those stigma-inducing films which they would like to eradicate: a female patient sedated during electroconvulsive treatment, elderly Holocaust survivors, endlessly staring. Their heads are bowed and bent. Sloppy pajamas, tattered slippers. Dark rooms, bare walls. Depression.
Nevertheless, the hospital staff is pleased with the exhibition. The patients, too, it turns out. Amit Mor, 30, is a kibbutz member, focused and articulate, with a history of many suicide attempts. She is in the initial stage of rehabilitation, thanks to electroconvulsive treatments which put her back on her feet. She resides in the association's hostel, outside the hospital grounds, supervised 24 hours a day, and works in the hospital cafeteria. She met Y. in the hospital and an affair began between them. They became Abarbanel's famous couple. But he is still hospitalized. She is a member of an association that fights for the rights of mental patients in rehabilitation. "We are second-class people," Mor says. "That's how it is today in our society. A healthy person cannot even imagine what it is to leave this circle after you have fallen once. How much strength is needed to tell yourself, 'I don't want to be stuck here, I want to go back to a normal life' - and then make it happen."
Mor has good things to say about Wolf's project. "Every kind of exposure and effort to let the truth out is positive. I personally like exposure. Part of the depression that the society imposes on 'those who cope' is that it forces us to be anonymous. Nameless. It upsets me very much that I cannot speak and publish things in my name. If I cannot sign my name, I am anonymous. It's as though I don't exist. I don't accept that."
According to Miki Kratsman, the head of the photography department at Bezalel Academy of Art and Design in Jerusalem (and a photographer for Haaretz): "A photographic project like this, on this scale, inside a psychiatric hospital, has never been carried out in Israel."
It's been done elsewhere, though. The French photographer and documentary filmmaker Raymond Depardon was 30 years ahead of Wolf. From 1971 to 1974, he resided in a hospital for the mentally ill in San Clemente, Italy, in a photographic project. There he documented the patients and the routine of the institution. When Wolf learned about this from Kratsman, after a few weeks at Abarbanel, he rushed to see Depardon's photographs and, he says, was greatly inspired by them. Unlike Wolf, Depardon received permission to reside in the hospital. He stayed there for lengthy periods, with the patients. The results appeared in an exhibition and in book form.
"Beyond Kobi's achievement in succeeding to persuade Abarbanel to open its gates and not hide anything," Kratsman says, "this is also an important artistic achievement. His work is of high quality." (V. L.-B.)
ICYMI
Ken Burns' Brilliant 'The U.S. and the Holocaust' Has Only One Problem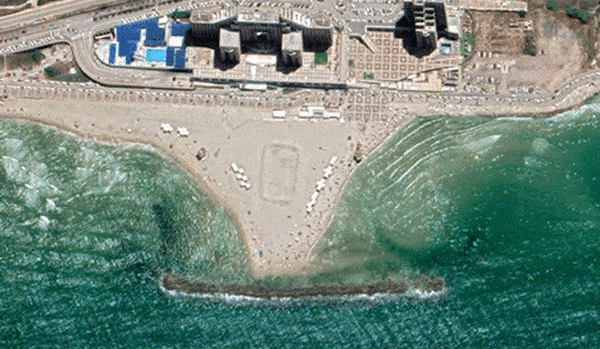 Facing Rapid Rise in Sea Levels, Israel Could Lose Large Parts of Its Coastline by 2050
As Israel Reins in Its Cyberarms Industry, an Ex-intel Officer Is Building a New Empire
How the Queen's Death Changes British Jewry's Most Distinctive Prayer
Chile Community Leaders 'Horrified' by Treatment of Israeli Envoy
Over 120 Countries, but Never Israel: Queen Elizabeth II's Unofficial Boycott