Report: Rome Tightens Pope's Security After Fury Over Islam Remarks
Muslim Brotherhood: Mistake will only be removed through personal apology; Morocco recalls ambassador to Vatican.
The Vatican has increased the security provisions for the Pope, Army Radio reported Sunday, a day after an Iraqi insurgent group threatened the Vatican with a suicide attack over the pope's remarks on Islam.
Muslims around the world have reacted furiously to the comments Tuesday by Benedict XVI, in which he quoted from an obscure Medieval text referred to some of the teachings of the Prophet Mohammad as "evil and inhuman."
The statement, posted online Saturday in the group's name, does not state the seat of the Holy See directly, but is addressed to "you dog of Rome" and threatens to "shake your thrones and break your crosses in your home."
"We swear to God to send you people who adore death as much as you adore life," said the message posted in the name of the Mujahedeen Army on a Web site frequently used by militant groups.
The message, the authenticity of which could not be independently verified, also contained links to video recordings of what the group claimed were rocket attacks on U.S. bases.
The Mujahedeen Army's statement vowed, "our minds will not rest until we shake your thrones and break your crosses in your home."
The same group has claimed responsibility for scores of attacks in Iraq, including the April 2005 downing of a helicopter carrying 11 civilians, including six Americans.
It was among 11 Sunni insurgent groups that offered in June to halt all attacks if the United States agrees to withdraw foreign forces from Iraq in two years.
Pope 'sorry' Muslims offended by his speech on Mohammed The Vatican said on Saturday Pope Benedict XVI was sorry Muslims had been offended by a speech whose meaning had been misconstrued, as anger and protest grew throughout the Muslim world.
In a statement issued by the Vatican, the pope said he respects believers in Islam and hopes they will understand the true meaning of his speech.
In a speech on Tuesday the Pope repeated criticism of the Prophet Mohammad by the 14th century Byzantine Emperor Manuel II Palaeologus, who said everything the Prophet brought was evil "such as his command to spread by the sword the faith he preached."
"The emperor comes to speak about the issue of jihad, holy war," the Pope said.
"He said, I quote, 'Show me just what Mohammed brought that was new, and there you will find things only evil and inhuman, such as his command to spread by the sword the faith he preached,"' Benedict quoted the emperor as saying.
The remarks sparked outrage across the Islamic world.
The new Vatican secretary of state, Cardinal Tarcisio Bertone, said that the pope's position on Islam is unmistakably in line with Vatican teaching that the Church "esteems Muslims, who adore the only God."
"The Holy Father is very sorry that some passages of his speech may have sounded offensive to the sensibilities of Muslim believers," Bertone said in a statement.
Egypt's Muslim Brotherhood said the Vatican statement saying the Pope was sorry did not go far enough.
"We want a personal apology [from the Pope]. We feel that he has committed a grave error against us and that this mistake will only be removed through a personal apology," Muslim Brotherhood Deputy Leader Mohammed Habib told Reuters.
"Has he presented a personal apology for statements by which he clearly is convinced? No," he said.
Morocco recalled its ambassador to the Holy See in protest over the Pope's remarks, the Foreign Ministry said Saturday.
Ambassador Ali Achour will be recalled as of Sunday for consultation "following remarks offensive with regard to Islam and Muslims by Pope Benedict XVI," the ministry said in a statement released by Morocco's state news agency.
Assailants attack five churches in West Bank, Gaza Assailants hurled firebombs and opened fire at five churches in the West Bank and Gaza on Saturday, causing no injuries, but sparking fears of a rift between Palestinian Muslims and Christians.
The attacks on four of the 10 churches in the West Bank town of Nablus, and on the Greek Orthodox Church in Gaza City unsettled a relatively peaceful coexistence in the city.
The assaults began with fire bombings of Nablus' Anglican and Greek Orthodox churches, which left trails of black scorch marks in their wake. At least five firebombs were hurled at the Anglican church, whose door was later set ablaze in a separate attack. Smoke billowed from the church as firefighters put out the flames
In a phone call to The Associated Press, a group calling itself the "Lions of Monotheism" claimed responsibility, saying the attacks were meant to protest the pope's remarks about Islam.
Hours later, four masked gunmen doused the main doors of Nablus' Roman and Greek Catholic churches with lighter fluid, then set them ablaze. They also opened fire on the buildings, pocking their outer walls with bullet holes.
In Gaza City, militants opened fire from a car at a Greek Orthodox church, hitting the facade. A policeman at the scene said he saw a car escape with armed men inside. Explosive devices were set off at the same Gaza church on Friday, causing minor damage.
There were no claims of responsibility for the last three attacks. Said Siyam, the interior minister from Hamas, ordered extra protection for churches across the West Bank and Gaza.
"The atmosphere is charged already, and the wise should not accept such acts," said Father Yousef Saada, a Greek Catholic priest in Nablus.
Ayman Daraghmeh, a Hamas legislator, denounced the attacks, and urged Palestinian police to do more to protect Christian sites.
Growing chorus of criticism in Muslim world against Pope Iran condemned Pope Benedict XVI on Saturday for making what it called "a big mistake" in his comments on Islam and demanded an apology, the official Islamic Republic News Agency reported.
"The pope's expression contradicted his own leadership of a divine religion. Promotion of incorrect beliefs (about Islam) is considered a big mistake," Iranian Foreign Ministry spokesman Mohammad Ali Hosseini was quoted as saying.
Hosseini said the pope should "revise and correct" his remarks in order to prevent Muslims' indignation.
In the first reaction from a top Christian leader, the head of Egypt's Coptic Orthodox Church said in remarks published Saturday that Pope Benedict XVI's comments on Islam were "against the teachings of Christ."
Coptic Pope Shenouda III told the pro-government Al-Ahram newspaper that he didn't hear the pope's exact words, but that "any remarks which offend Islam and Muslims are against the teachings of Christ."
"Christianity and Christ's teachings instruct us not to hurt others, either in their convictions or their ideas, or any of their symbols - religious symbols," Shenouda was quoted as saying.
Egypt's Copts, whose liturgy follows Eastern Orthodox Christian traditions rather than the Vatican, account for an estimated 10 percent of Egypt's 73 million people.
Also on Saturday, Indonesians gathered outside of the Palestinian Embassy in Jakarta in protest over the pope's remarks.
On Friday night, some 2,000 Palestinians angrily protested against the pope in Gaza City, accusing him of leading a new Crusade against the Muslim world.
Palestinian Prime Minister Ismail Haniyeh Friday joined the growing chorus of criticism in the Muslim world against Pope Benedict XVI, saying he had offended Muslims everywhere.
Lebanon's most senior Shiite Muslim cleric on Friday denounced Pope Benedict XVI's recent remarks about Muslim holy war, and demanded the Pope personally apologize for insulting Islam.
"We do not accept the apology through Vatican channels ... and ask him [Benedict] to offer a personal apology - not through his officials - to Muslims for this false reading [of Islam]," Grand Ayatollah Mohammed Hussein Fadlallah told worshippers in his Friday prayers sermon.
Fadlallah's words were some of the strongest yet in response to the pontiff's remarks on Islam's prophet Mohammed and holy war, during a speech this week in Germany, which angered many in the Muslim world.
"We call on the Pope to carry out a scientific and fastidious reading of Islam. We do not want him to succumb to the propaganda of the enemy led by Judaism and imperialism against Islam," Fadlallah said.
On Friday, Pakistan's parliament unanimously adopted a resolution condemning Benedict for making what it called "derogatory" comments about Islam, and seeking an apology. Hours later, its Foreign Ministry summoned the Vatican's ambassador to express regret over the remarks.
About 100 worshippers demonstrated after Friday prayers at Egypt's Al-Azhar mosque, the Sunni Arab world's most prominent institution, chanting "Oh Crusaders, oh cowards! Down with the Pope!"
Egypt's Foreign Minister Ahmed Aboul Gheit said on Friday Pope Benedict XVI must explain himself after insulting the Muslim world with "unfortunate" remarks about Islam and jihad.
"He has to explain himself, and tell us what exactly did he mean," Gheit told The Associated Press. "It can't just be left like that."
Many attributed the Pope's comments to a larger political bias against Muslims. "This is part of the whole war against Islam. Whenever we close a door on evil, they open another door," said an Egyptian man who spoke on condition of anonymity because of the sensitivity of the matter.
"These Christians are all infidels. Benedict himself is an infidel and a blind man. Doesn't he see that the wars in Iraq and Afghanistan and other places were waged by Christians?" another worshipper said.One of the protest's organizers, a Muslim Brotherhood figure, shouted into a microphone, demanding an official apology from the Vatican.
Hundreds of Egyptian riot police wearing black helmets and carrying heavy shields surrounded the mosque, preventing protesters from spilling over into the streets.
Fadlallah said he condemns "and protests in the strongest terms" the Pope's comments, "particularly his quoting without any occasion of the words of the emperor in which he insults Prophet Mohammed."
Lebanese Prime Minister Fuad Saniora instructed Lebanon's ambassador to the Vatican, Naji Abi Assi, to visit the Vatican Foreign Ministry to seek clarifications on the pontiff's remarks, a Lebanese government official said Friday.
In neighboring Syria, the grand mufti, the country's top Sunni Muslim religious authority, sent a letter to the pope saying he feared the pontiff's comments on Islam would worsen interfaith relations. Sheik Ahmad Badereddine Hassoun, a moderate cleric, said the comments "raise intellectual, cultural and religious problems between followers of religious faiths."
The letter, addressed to the Pope and delivered to the Vatican embassy in Damascus, avoided sharp criticism however, reflecting tight control by Syria's secular regime.
"We expect that what has been attributed to your holiness is not true and hope we can all work together on spreading divine values that call for harmony, accord and cooperation," Hassoun wrote.
Notably, the most violent denunciation so far has come from Turkey - a moderate democracy seeking EU membership, which Benedict plans to visit in November.
Salih Kapusuz, deputy leader of Turkish Prime Minister Recep Tayyip Erdogan's Islamic-rooted party, said Friday that Benedict's remarks were either "the result of pitiful ignorance" about Islam and its prophet, or worse, a deliberate distortion of the truths.
"He has a dark mentality that comes from the darkness of the Middle Ages. He is a poor thing that has not benefited from the spirit of reform in the Christian world," Kapusuz told Turkish state media. "It looks like an effort to revive the mentality of the Crusades."
"Benedict, the author of such unfortunate and insolent remarks, is going down in history for his words," he said. "He is going down in history in the same category as leaders such as Hitler and Mussolini."
Even Turkey's staunchly pro-secular opposition party demanded that the Pope apologize to Muslims before his visit. Another party led a demonstration outside Ankara's largest mosque, and a group of about 50 people left a black wreath outside the Vatican's diplomatic mission.
Vatican spokesman Federico Lombardi has tried to defuse anger, saying the Pope had not intended to offend Muslim sensibilities and insisting that Benedict respected Islam. In Pakistan, the Vatican envoy regretted "the hurt caused to Muslims."
But Muslim leaders said outreach efforts by papal emissaries were not enough. "We do not accept the apology through Vatican channels ... and ask him [Benedict] to offer a personal apology - not through his officials," Grand Ayatollah Mohammed Hussein Fadlallah - Lebanon's most senior Shiite Muslim cleric - told worshippers Friday in Beirut, Lebanon.
Rashwan feared the official condemnations could be the precursor for widespread popular protests. Already there have been scattered demonstrations in several Muslim countries.
"What we have right now are public reactions to the Pope's comments from political and religious figures, but I'm not optimistic concerning the reaction from the general public, especially since we have no correction from the Vatican," Rashwan said.
ICYMI
Ken Burns' Brilliant 'The U.S. and the Holocaust' Has Only One Problem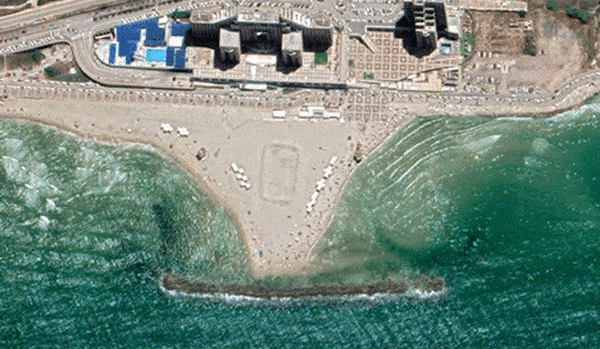 Facing Rapid Rise in Sea Levels, Israel Could Lose Large Parts of Its Coastline by 2050
As Israel Reins in Its Cyberarms Industry, an Ex-intel Officer Is Building a New Empire
How the Queen's Death Changes British Jewry's Most Distinctive Prayer
Chile Community Leaders 'Horrified' by Treatment of Israeli Envoy
Over 120 Countries, but Never Israel: Queen Elizabeth II's Unofficial Boycott