Remembering the Sbarro Bombing Five Years On
With war raging against Hezbollah, it is easy to overlook Israel's other existential threat. The events of this day, five years ago, provide a stark reminder of the thriving demon across our southern border - Hamas.
On 9 August, 2001, Izzadin al-Masri, the 22-year-old son of a well-to-do restaurateur, and Ahlam Tamimi, a 20-year-old university student and part-time journalist, set out to murder many Jews. Hamas had trained and equipped them. Tamimi had scouted for and located the target. They were primed for a successful mission.
Tamimi, in revealing Western clothing, was disguised to look like a young Israeli woman. Al-Masri had a guitar case slung over his shoulder, packed with five kilograms of explosives, along with nails, screws and bolts to exacerbate the injuries. Chatting in English and carrying a camera, they looked harmless enough for an unsuspecting soldier at the Israeli checkpoint between East and West Jerusalem to allow them to pass. The Jerusalem police force, previously alerted to a planned terror attack, failed to locate them. They strolled freely through the city's streets.
At the city's busiest intersection, the unguarded entrance to a crowded restaurant beckoned. Tamimi and Al-Masri parted. He entered the eatery alone and surveyed the dozens of women, children and babies. Satisfied with the numbers, he detonated his bomb. My 15-year-old daughter, Malki, had entered moments earlier with her friend, Michal Raziel. I know from speaking with a survivor that the girls were standing in line waiting to order. Each was urging the other to go first. That was all I knew at first about what happened inside the restaurant at 2 P.M. that day - until I interviewed Esther Shoshan.
"I was upstairs with one of my daughters," Esther recalls. "We had wanted to sit downstairs where it's roomy, near the windows, but it was too crowded. Two of my daughters had gone to park the car. Two others, Miriam and Yocheved, went down to the lower level to get our food."
Esther speaks quickly. "Then there was an enormous blast. The place went dark. People started screaming: 'Pigua! Pigua!' [Terror attack! Terror attack!] But at first I didn't believe it.
"People shouted: 'Get out! There may be another blast.' Finally, we ran downstairs. There was a terrible stench. I saw body parts everywhere - here a limb, there a head. The bodies were bloated. There was water everywhere; I have no idea where it came from. I searched for my children.
"My two daughters who had gone to the car-park arrived seconds later. The older one came inside and found Miriam and Yocheved. They were on fire. She managed to put out the flames but was then rushed away by rescue workers.
"I couldn't leave. I was torn. The rescue workers kept dragging me to the door. I'd start to go, then run back screaming, 'My girls, my girls!' I wanted to help them."
Esther was taken to a local hospital. She left shortly thereafter to keep searching for the two children she had left at the scene.
Rushing from one hospital to another, she located Miriam at Hadassah University Hospital, Ein Karem. Her 15-year-old had suffered third-degree burns over 40 percent of her body; 60 nails were lodged inside her, many only millimeters from vital organs; her spleen was ruptured and there was a gaping hole in her right thigh.
Yocheved, the younger child, could not be found in any of the city's hospitals. Later that day, a cousin and uncle identified her body at the Abu Kabir morgue. She was buried at midnight.
All told, 15 died in the Sbarro massacre that day, among them eight children; 130 people were injured.
Since then, 16 families have been grappling with grief. They do it every day, silently, far from the cameras and microphones of the media. Many have never before been interviewed.
Shifra Hayman and her husband are among them. In 2001, they were living in Los Angeles; their married daughter, their only child, Shoshana Greenbaum, was spending a few weeks studying in Israel when she was caught in the Sbarro blast. The Haymans are very religious and wanted Shoshana buried according to Jewish tradition as quickly as possible, and in the Holy Land. Since they do not travel on Shabbat, this meant they were unable to be here in time for their daughter's funeral.
Shifra, a medical social worker, sat the entire week of mourning in her Los Angeles home holding and caressing a toy dog in her lap. She had bought it because it was identical to a larger one she had given Shoshana many years back when, as a teen, she had undergone a tonsillectomy. Shoshana was three months pregnant and Shifra had eagerly envisaged new mother and baby holding the matching furry toys.
It is an image she can only dream of now. Yet Shifra seeks the positive in remembering Shoshana's life and death.
"Everyone was there for us from the moment we arrived home after hearing the news of her death," she begins, "Fortunately, we had strong connections with three LA Jewish communities who all stood by us.
"Shoshana's wristwatch, which was sent to us after the attack, was, miraculously, still running when we got it," Shifra recounts, "which must reflect some gentleness in the way He took her life."
Shifra recalls her last conversation with her daughter, a night before her murder: "I remember how grateful I was for the conversation I'd had the previous night with Shoshana. She'd been so happy."
Now, she consoles herself with the thought that according to Jewish tradition, a teacher's students are deemed his children. In the 10 years that Shoshana was a Bible studies teacher, she nurtured many such "children," some of whom live near the Haymans in their new home in Ramat Beit Shemesh. A few of them, now parents, are raising their children to call the Haymans Bubbie and Zaidie (Yiddish for grandma and grandpa).
Like Shoshana's unborn child, Chana Nachenberg is omitted from the official toll of the Sbarro victims. Technically, she is one of the 130 who were wounded in the massacre - but she is not actually alive. Deep in a five-year-long coma, she is neither wife to her husband nor mother to her daughter, now eight years old. Her parents visit her in the hospital every day.
David Nachenberg works as a sports journalist and as a child-care assistant close to his home so he can be available for his daughter. He does not allow her to be interviewed. Even while we speak, he pauses time and again and, with the utmost patience, tends to her requests.
When, as happens a lot these days, the government mentions the possibility of a prisoner release, a shiver goes down my spine. One of the names on the list of candidates for release is that of Ahlam Tamimi. She is serving 16 life sentences in an Israeli prison. Remorse or repentance could not be further from that woman's mind. She made this clear five months ago when she told journalists: "I'm not sorry for what I did. I will get out of prison and I refuse to recognize Israel's existence."
Along with the other Sbarro families, I remember Shoshana and Yocheved and Chana and Malki and Michal and all the other victims. We are determined to help keep their murderer, Ahlam Tamimi, behind bars until the end of her days.
The writer and her husband founded and run the Malki Foundation (www.kerenmalki.org) in their daughter's memory.
ICYMI
Ken Burns' Brilliant 'The U.S. and the Holocaust' Has Only One Problem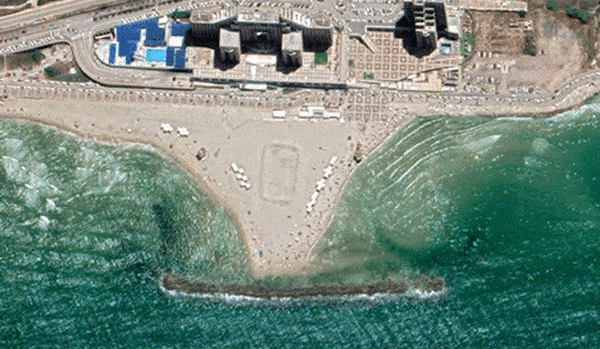 Facing Rapid Rise in Sea Levels, Israel Could Lose Large Parts of Its Coastline by 2050
Lapid to Haaretz: 'I Have Learned to Respect the Left'
The Mossad's Fateful 48 Hours Before the Yom Kippur War
As Israel Reins in Its Cyberarms Industry, an Ex-intel Officer Is Building a New Empire
How the Queen's Death Changes British Jewry's Most Distinctive Prayer