A Timely Leap Into Love
The time-traveling hero in this book provides a kind of romantic richness that genetically intact lovers can only dream of.
"The Time Traveler's Wife" by Audrey Niffenegger, Harvest Books (paperback), 560 pages, $14
"The Time Traveler's Wife," Audrey Niffenegger's debut novel, brings together two well-known literary formulas. The book, recently translated into Hebrew by Assaf Gavron (Kinneret Zmora Bitan), joins a long tradition of popular narratives, literary and cinematic, exploring the idea of time travel; at the same time, it is also a romantic fantasy of eternal love, a love so intense and enduring that it transcends even death. The book's power lies in the way that these two familiar stories refresh each other, forming a single original and captivating tale about the link between love and time.
Time travel is a familiar theme not only to devout readers of science fiction. The basic concept can be translated into many kinds of plots: Some ponder causality and morality, determinism and fate, others are historical adventure stories, and a third type focus in detail on the encounter - comic, poignant or threatening - between different moments in private or collective history. Niffenegger's book falls into the latter category; but while other texts find sufficient narrative fuel in a one such encounter (an obvious example is the first "Back to the Future" movie, whose hero travels to the world of his parents' youth), Niffenegger weaves an entire novel out of sharp temporal leaps, described from multiple perspectives and sometimes more than once.
Henry and Clare met for the first time when Clare was 6 and Henry was 36. Clare and Henry also met for the first time when Henry was 28 and Clare was 20. This strange, seemingly impossible combination of facts is the result of Henry's rare genetic disorder, which causes him to travel through time uncontrollably. At any moment he might be torn from the present and tossed to another point in space and time, and then, just as abruptly, find himself back in the here and now. One day, for example, 32-year-old Henry is crossing the street when suddenly "my ears are buzzing and I lose my balance and I am falling but instead of pavement I hit carpeting and I lie where I fall until I hear a familiar child's voice saying 'Henry, are you okay?' and I look up to see myself, age eight, sitting up in bed, looking at me" (page 317). His travels bring him face to face not only with his own older or younger selves, but with most of the important people in his life, especially Clare; much of the book follows his repeated jaunts into her time-continuum, from her early childhood to very old age.
As may already be evident, "The Time Traveler's Wife" does not deal with time in a broad historical sense. Its focus is private time, the kind that imposes a linear structure on an individual's life and experiences. Niffenegger is interested in what happens when this linearity is shattered. Her book traces the effect that time travel, with all of its attendant mind-benders, has on the relationship of a modern American couple, no different in their habits and desires than the characters of any realist novel. Clare is an artist, Henry is a librarian; they work, socialize, go to the opera, and above all want to start a family and stay together. Time travel serves this ordinary story in a double way. It is the threat hovering over the couple's "normal" life, but also the force that makes their bond so strong and unique.
Naked moments One reason why the time-travel fantasy continues to exercise its hold on the popular imagination is the way it links time, knowledge and power. Time-travel adventures can be dangerous, of course, but in many cases the menace is balanced out by the unique advantage of the hero, who possesses knowledge that has not yet been learned, or has perhaps already been forgotten. Niffenegger, in one of the book's loveliest touches, chooses instead to emphasize Henry's great vulnerability, which is rendered in a particularly tangible way. Since nothing but his body can travel through time, Henry is thrown to his other moments completely naked, exposed to the bitter cold of the American winter and subject to the hostility of passersby and policemen. Surviving his sojourns away from the present requires a unique and unlikely set of skills - running, picking locks, stealing clothes.
Henry also gets into trouble in his own time. For example, he has to explain to his colleagues why he sometimes vanishes in the middle of the day, leaving a small pile of clothes on the floor, or else materializes between the bookshelves in the nude. Niffenegger does not ignore the comic potential of the situation, but the dominant tone of her detailed, realistic account is somber. The time traveler, as she imagines him, is a reluctant adventurer at best, and toward the end of the book Henry's exploits become tinged with a horror that seeps into the couple's everyday life.
Time travel, however, is not only the dark shadow hanging over Henry and Clare; it is also an essential component in this literary fantasy of idyllic, intense, unusual love. The love story Niffenegger creates is actually doubled, because each of the two main characters experiences it as a different chronological sequence. Henry first meets Clare as an adult; it is not until much later, after many years together, that he has a series of encounters with her as a young girl and teenager. Clare, on the other hand, has known the older Henry since childhood. His visits accompany, and perhaps shape, her journey to adulthood, and she brings this load of memories to her "first" chance meeting with 28-year-old Henry, who has never seen her before. The hero's sickness, in other words, provides a kind of romantic richness that genetically intact lovers can only dream of.
"The Time Traveler's Wife" is hardly a faultless novel. It has some logical flaws, which are perhaps unavoidable in a book about a paradoxical topic like time travel. The love story, for its part, suffers from a certain amount of hyperbole; Clare especially is allowed to remain too perfect under the rather strained circumstances of life with Henry. Nevertheless, this is an engaging, highly readable and often moving book, and Niffenegger shows remarkable skill in controlling the intricate narrative structure. It seems that she attempted to combine the kinds of reading invited by different genres, and her novel therefore offers a twofold pleasure: both the cerebral enjoyment of pondering an abstract concept, and the sweeping emotional fascination of a great love story.
Yael Shapira is writing her dissertation on 18th-century Gothic fiction at the Hebrew University of Jerusalem.
ICYMI
Ken Burns' Brilliant 'The U.S. and the Holocaust' Has Only One Problem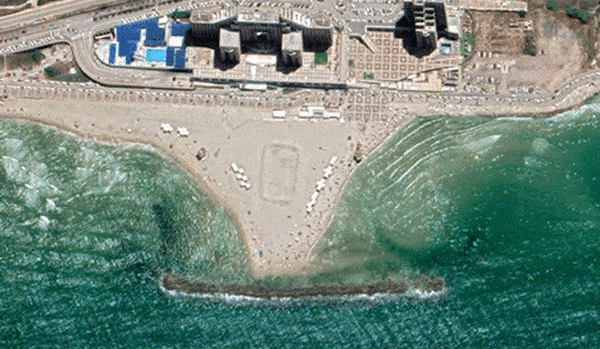 Facing Rapid Rise in Sea Levels, Israel Could Lose Large Parts of Its Coastline by 2050
Lapid to Haaretz: 'I Have Learned to Respect the Left'
The Mossad's Fateful 48 Hours Before the Yom Kippur War
As Israel Reins in Its Cyberarms Industry, an Ex-intel Officer Is Building a New Empire
How the Queen's Death Changes British Jewry's Most Distinctive Prayer