Not Always a Soft Landing
She won her first Olympic gold at 31 - at least twice the age of most of today's female gymnasts at their peak. But then Agnes Keleti has never been one to follow convention - not when she was on the run from the Nazis, confronting the rabbinate in Israel or teaching gymnastics to young Israelis.
Agnes Keleti Biro's Olympic medal collection doesn't look like anything special. The medals she won for her native Hungary are shut tight in their small rectangular boxes and stacked up in the living room cupboard of her Herzliya Pituah apartment.
In another room, in a drawer beneath the sewing machine she still uses to make clothes, there is a disorderly collection of the photographs recording her years as a gymnast. The world-class athlete, now 84, says she needs to organize the pictures one of these days, then laughs and says she doesn't really feel like it.
Keleti Biro is blase about the 11 Olympic medals, five of them gold, that she has garnered. "I don't have a display case," she says breezily. "I'm not so proud of them, and besides, I've already forgotten. It was so long ago."
The blunt, straight-talking Keleti Biro immigrated to Israel in 1957 after surviving the Holocaust and defecting from Hungary in the midst of the Hungarian revolution. She starts off her day with ballet and swims regularly. She seems unable to sit in one place for too long, and sometimes positions herself in a squat or demonstrates exercises for the torso and arms. Wearing knee-length blue shorts and open-heeled sneakers, she extols the benefits of exercise, although she bemoans the way her hair sticks to her head after her swim.
"Sport extends life, that's for certain. And also preserves health," she says. "I still train every morning. I do ballet exercises. One must not stop."
But then, Keleti Biro has never allowed age to stand in her way. She was a swimmer and dancer before she began studying gymnastics at 16, around the age when many gymnasts are hitting the peak of their careers. Indeed, she was nearly twice that age ? 31 - when she won her first Olympic gold medal, at the 1952 Helsinki Olympics, and 35-years-old when she won four more in Melbourne, in 1956. Her earlier Olympic hopes had been placed on hold when World War II led to the cancellation of the 1940 and 1944 Games.
During the German occupation of Hungary, Agnes Keleti - as she was known before marrying Robert Biro in 1959 - effectively disappeared. She bought fake identity papers and became Yuhasz Piroshka, a Christian, and found jobs as a furrier, a housekeeper for a Nazi-sympathizing Hungarian family, and a worker in an ammunition factory.
While she was working as a furrier, Hungarian guards refused to let her out of a ghetto near Budapest until she could convince them she was the gentile she claimed to be. "I had to recite all the content of the papers, which I had previously studied," she recalls. "But my heart ... it was one of my most tense moments ever."
During the battle for Budapest in the winter of 1944-1945, Keleti used to do morning rounds to collect the bodies of those who had died the day before and place them in a mass grave. "Is it possible to forget such a thing?" she asks.
Her mother and sister also survived the war. They remained in Budapest, where they received Swedish "protective passports" (Schutz-Pass) issued by Swedish diplomat Raoul Wallenberg, who saved thousands of Jews by claiming that the bearers of the documents were Swedish subjects awaiting repatriation.
However, Keleti's father and other relatives perished in Auschwitz. "I thought about how it was, what a horrible death," she says, her hands covering her face. "Before I left [home] I said, 'Dad, do like me, don't wait.' He said, 'I don't have strength anymore for this, I'm too old for this.'"
After the war was over, Keleti had the chance to showcase her gymnastic talents in an international forum, but is still wistful when she recalls the dream she never fulfilled: becoming a cellist. Keleti had played the cello since she was 5, but didn't start again when the war ended. "After everything got lost, my entire home, I didn't play anymore," she says. "The cellist died at age 18, when they took everything from us."
The third phase
Agnes Keleti won a total of five gold, three silver and two bronze medals at the 1952 and 1956 Olympics Games. When she lists the medals she has won, she doesn't bother to include the 11th: a silver medal she was awarded along with her team in 1948, even though a training injury incurred right before the competition rendered her unable to participate. She also captured a gold, a silver and a bronze at the 1954 World Championships.
When Aggi, as some of her friends call her, moved to Israel, she ended her career as an athlete and began one as a trainer of Israeli gymnasts and coaches, working for 34 years at the Wingate Institute for Physical Education and Sports. Her time in Israel constitutes the third phase of her life, as she divides it in her 2002 autobiography, The Three Lives of a Champion." The book, written in Hungarian, is split into life before World War II, life under communism and life after communism.
Keleti Biro, who says she has the most Olympic medals of any living Hungarian, was honored at a ceremony at the Hungarian parliament in 2003 for her athletic accomplishments. She has been inducted into the International Women's Sports Hall of Fame and the International Jewish Sports Hall of Fame, which ranks her as the most successful Jewish female athlete in Olympic history.
The International Gymnastics Hall of Fame, which inducted her in 2002, called her "an Olympic icon, for her courage and athletic endurance."
But for all the international recognition, Keleti Biro's favorite award is the one she received from the parents of the young girls to whom she taught gymnastics in Ra'anana, where she worked between 1989 and 1995.
The work in Ra'anana gave Keleti Biro a chance to see how gymnastics could affect the non-athletic aspects of the girls' lives, such as progress in their studies. "It's not just the profession, [but] the behavior, the love of teaching," she says. "The joy is in that - when you see how the gymnast begins to form a stable shape, when she gets a better report card... I was able to give my heart, you know, my soul, for a girl. I didn't deal too much with the talented ones. I wanted the weak ones first, to advance the weak ones - that was the joy, that they made progress."
She has trouble finding the Ra'anana award among the mass of prizes on her shelves, squinting as she holds them up close to her eyes to read the inscriptions. The difficulties she has in reading, as well as in hearing, are the few signs that the years have taken their toll.
"[Keleti Biro] is the foundation stone of gymnastics in Israel," says Haya Halperin, who at the age of 15 was chosen by the former world champion to perform in local and international gymnastics competitions. They have since taught together at the Wingate Institute's Zinman College of Physical Education.
"She introduced an Olympic style and the fundamentals for gymnastics working with equipment, which until then was almost unknown [in Israel]," says Halperin. "She contributed a lot to discipline and order in athletic education, which is essentially education for life."
Straight talkKeleti Biro, who studied physical education in Budapest, was the first to bring professional gymnastics equipment to Israel. She bought the equipment, including a balance beam and uneven bars, from Germany with money she earned by holding a televised gymnastic performance three years after moving to Israel. She practiced at Mahaneh Yona, a Tel Aviv gymnasium originally used by the British army, where she had been training the Israeli women's gymnastics team.
"You have to understand that she is gymnastics in Israel," says Hagit Zaif Diskin, who first met Keleti Biro when the Hungarian athlete taught her at a gymnastics training camp in 1968, and then picked her for the Israeli gymnastics team. The two also taught gymnastics together at Zinman College.
"She brought the first equipment, she's the first professional. She picked the first [Israeli women's gymnastics] team, who became the ones who trained the next generation," says Zaif Diskin, 49, who now heads the gymnastics department at Zinman College and the aerobics department of the Israel Gymnastics Association.
The world-famous gymnast also influenced Zaif Diskin on a personal level. "She taught me what it means to dedicate yourself to something, what it means to put your whole soul into something."
Despite her contribution to gymnastics in Israel, Keleti Biro remains disappointed with the level of athletics in the country, saying: "It didn't reach the international Olympic level." She criticizes the minimal amount of training time allocated for gymnasts, and says that at one point the resources were so scant that the male and female gymnasts would constantly squabble over who would use the sole landing mat. "We didn't achieve anything. We couldn't have when the entire world was working out twice a day and we worked out three times a week," recalls Keleti Biro. "I basically didn't succeed in Israel."
Zaif Diskin agrees that not enough money has been dedicated to gymnastics and that being "at the top of the world in gymnastics" requires more training time. She adds that although Keleti Biro has had many disputes with Israeli sports officials, they retain a "soft spot" for her and value her contributions.
"I always had to speak my mind, say my truth," says Keleti Biro.
Agnes Keleti left Hungary for good after the 1956 Melbourne Olympics - when she and about 40 other Hungarian athletes won asylum in Australia "I'd had enough of communism," she says.
She lived in Sydney, where her sister had moved after World War II, and worked in a factory. But the self-discipline she exhibited in the Olympic arena had little place on the assembly line, where she was told not to work quite so hard if she wanted to keep her job.
After nine months, she made her way back to Europe, where an Israeli emissary invited her to participate in a ceremony at the Fifth Maccabiah Games in 1957. Although she still returns to Hungary once or twice a year, she has lived in Israel since then.
"I felt here that I was at home," says Keleti Biro. "This is the only place in the world where I'm not a 'jid' - I'm an Israeli. And that was worth it to me."
Wedding woesKeleti Biro may have been glad to come to Israel, but she is still angry at the reception she got at the rabbinate. It took her a year and a half to get permission to wed Robert Biro, a Hungarian physical education teacher whom she met in Israel and married in 1959. They have two sons: Daniel, 42, who lives in Ramat Aviv, and Rafael, 41, a fashion designer living in Paris.
The wedding was held up by issues related to Keleti's earlier civil marriage to a Hungarian gymnast. "I got married the first time because there were rumors that they didn't take married women to labor camps," she says. "I quickly married my friend who was also a gymnast, but if it were normal I wouldn't have gotten married at all in those times."
Her vociferous criticism of the face of organized Judaism - "I hate rabbis," she says - appears to have its roots in her wartime experience, when the "Hungarian rabbinate sold Jewry to Nazism" by telling the Jews to do whatever the Germans wanted, she says, in a misguided effort to avoid problems.
"I knew very well what would happen, because the Poles came - some had managed to escape - and told all about Auschwitz and Birkenau, and the idiotic Hungarian Jews didn't believe it," she explains. "I knew they were telling the truth."
Keleti Biro has little patience for those who ignore what she views as self-evident, and she directs her barbs just as readily at the world of international gymnastics today. "They start training the girls at age 4 or 5 and they almost never leave the gym. Women's gymnastics is so dangerous," she notes. "What they demand today is not at all interesting or enjoyable, and I have already stopped going to the Olympics to watch."
But that doesn't mean this gymnast has plans to stop exercising any time soon. As Agnes Keleti Biro's expression switches from fiery anger to playful pride, she stands in her kitchen entryway, her hands bracing the walls. "I'm 84 and a half, and I can still raise my leg like this," she says, lifting it to waist level and laughing. "But it's okay," she says. "I train every day."
ICYMI
Ken Burns' Brilliant 'The U.S. and the Holocaust' Has Only One Problem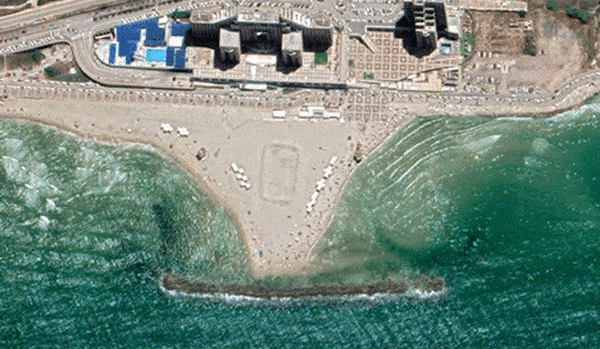 Facing Rapid Rise in Sea Levels, Israel Could Lose Large Parts of Its Coastline by 2050
Lapid to Haaretz: 'I Have Learned to Respect the Left'
The Mossad's Fateful 48 Hours Before the Yom Kippur War
As Israel Reins in Its Cyberarms Industry, an Ex-intel Officer Is Building a New Empire
How the Queen's Death Changes British Jewry's Most Distinctive Prayer