First, Take a Deep Breath
Tired, stressed-out nurses at Hadassah Hospital learn to alleviate tension and foster well-being at a workshop initiated by Dr. Sarah Sallon, a former Londoner who heads the hospital's Natural Medicine Research Unit
The day opened with chi kong exercises, designed to loosen the joints, make the muscles more supple and improve stability. The women do them on the big lawn in front of Beit Ha'am hall in Aminadav, a village on the southwest outskirts of Jerusalem. Everything flows, the pastoral reigns, and the participants in the course have one last chance to realize how far the quiet and tranquillity is from the frenetic melee of the hospital's corridors and operating theaters. It's a perfect coda for a six-month course that also included meditation, guided visualization, yoga, relaxation, breathing exercises and shiatsu. According to the reactions of those who attended, their proficiency level was dramatically heightened by the course. And that is a good thing for all of us: The participants are nurses.
Batya Ovadia has worked as a registered nurse for 32 years, a dozen of them in the hospice of Hadassah Medical Center on Mount Scopus, Jerusalem. For the past three years she has been chief nurse in the department from which there is no way back. So she had at least 1,095 good reasons - three years' worth of days - to attend the course called "Techniques to Allay Tension," which took place at Hadassah Medical Center in Ein Kerem, Jerusalem, for the fourth year running. She was joined by Ada from pediatrics, Miriam from the infants department, Linor from plastic surgery, Smadar from neonatal intensive care, Ilana from dermatology and venereal disease, Nili from the emergency room, Rimona from the virology lab and many others from just about every department, all of whom gathered at the end of last month at Aminadav for the concluding session of the workshop.
"The aim of the workshop is not to make do with pampering oneself but to show the legitimacy of these tools as well," says Debbie Eisner, the facilitator. "The nurses can use the method on themselves, on their families and relatives, on the nurses in the department and even on patients. It's not that I come and bombard them with instructions. Because you can't ask a nurse, who is already chronically tired, to devote more time to work, I try very hard to illustrate what can be done in the situations in which she in any case deals with the patient. For example, she can do the relaxation and breathing exercises together with the patient, and then they both benefit. During an infusion, for example, while looking for the vein, she can massage the forearm and touch those points which, according to Chinese medicine, generate calm. These exercises don't take extra time but can be done in the course of working with the patient."
The initiative for the course came from Dr. Sarah Sallon, director of the Natural Medicine Research Unit at Hadassah/Ein Kerem. Sallon, who was born and grew up in north London, completed her medical studies in 1975 and then worked in a series of hospitals in London, Brighton and Hong Kong. On the way back from Hong Kong she made a side trip to Irkutsk, one of the major cities along the Trans-Siberian Railroad - which she took to return to the West. The Orient, though, left her with a powerful urge to visit again.
Back in England, she decided to specialize in pediatrics. On the eve of her final exams, while studying in the library of St. Bartholomew's Hospital in London, she flipped through a professional magazine and her eye caught an ad seeking a physician for a delegation to the Himalayas. "That's me! That's me!" she said, leaping from her seat enthusiastically. She was accepted to the delegation and immediately after her last exam left with them for Ladakh, in India, a region which back then, in 1981, was still unknown to Western tourism.
With spectacular mountain peaks rising to 6,000 meters, the major problems that required her professional intervention during the trek were those associated with high altitudes. After the members of the delegation went their separate ways, Sallon stopped in Bombay and took part in a program to care for children from slum areas, after which she went on to Hyderabad. She returned to England a year later and in 1983 immigrated to Israel in the wake of her elder sister, Judith, a member of Kibbutz Maayan Zvi. Their younger siblings still live in England: Ruth, a sculptress, and Philip, a legendary bohemian and impresario, who was a kind of guru to the punk generation, a friend and confidant of Boy George. The musical "Taboo," which tells the story of Philip Sallon and Boy George, recently finished its run in London and New York.
"I was raised by eccentric and unusual parents," Sarah Sallon says. "My family believed it was a lot more normal than it actually was," her brother Philip said in a recent interview. Their mother, Anna, was a teacher, and their father, Ralph, who died five years ago at the age of 100, was one of the greatest caricaturists in Britain. His work appeared in the Daily Mirror and the Jewish Chronicle. Ralph Sallon drew all the figures who shaped the last century, and in particular, those connected with the Zionist movement, from Winston Churchill and Adolf Hitler to Albert Einstein and David Ben-Gurion, Mahatma Gandhi and Bernard Shaw, to Ze'ev Jabotinsky and Chaim Weizmann.
Sallon found her professional home in Israel at Hadassah, specializing in the digestive tract, tropical diseases, parasites and malnutrition in children. In that capacity she headed the Israeli delegation that went to famine-stricken Ethiopia to assist those who were starving. Nor did she pass over places closer to home where distress is rampant, such as Gaza, Bethlehem, East Jerusalem and Jericho.
Physician without borders
From every point of view, Sallon is a physician without borders. Adventure is her fuel. Her trip to Calcutta, in 1986, to visit the welfare organization of Mother Theresa, was a natural continuation of her work. However, she says, it was a frustrating experience and she doesn't wish to elaborate. Hinting at the problems, she says she encountered suspiciousness on the part of the nurses and that in comparison with the vast resources that were showered on the organization, too little was done for the unfortunates there. Regretfully, she left and joined another group that worked in the gutters of Calcutta, mainly for refugees from Bangladesh, called Dr. Jack Prager's Street Clinic. Although this institution is not as well known as that of Mother Theresa, Prager, an Anglo-Jewish physician, made an enormous contribution to the struggle against epidemics and disease. When she herself came down with a serious intestinal illness, which compelled her to stop working for a time to recover, she went to the State of Kerala, in southern India, where she had what can be called a fateful encounter, a watershed in her life.
A passerby whom she happened to meet told her about a certain Dr. Harichandra, who used a traditional method called sidha, with which he performed miracles. What was there to lose? Still skeptical, Sallon joined the line waiting for the miracle worker. To test him, she described a case of back pain. Dr. Harichandra rubbed her palm lightly and stated, "Madam, you have stomach problems." He gave her a medicine he had made. Two days later, when she came down with a high fever, she returned to him in a fright. "Very good," he reassured her, "the medicine is working."
Within a week she felt like new, younger than ever. After recovering she accompanied him and sat by his side during his reception hours, becoming acquainted with an aspect of medicine with which she wasn't familiar. Her whole professional approach changed. "I was entranced by the way he diagnosed the patients, the questions he asked them, the humane approach he displayed, the prescriptions he wrote on a bamboo slate." For Sallon it was a dramatic encounter: nothing would be the way it had been. She had entered a new realm.
Having already accepted ideas which in the West were considered alien and bizarre, she sought to extract more from them. From the south she returned to the north of India, this time to Dharamsala, the cultural center of the community of Tibetan exiles in India. At an institute for Tibetan medicine, she delivered an illuminating lecture about Western methods for treating parasites. Afterward, she was approached by an elderly man who turned out to be the Dalai Lama's personal physician, Dr. Tenzin Choedrak. He gave her a guided tour of the Tibetan heritage museum, which exhibits treasures smuggled out of the Chinese-occupied homeland. As they were perusing manuscripts of ancient physicians, he outlined his credo: "Always remember this, madam. The basis of all illnesses is ignorance. Ignorance poisons the mind and causes hatred, delusions and materialism." When she asked his advice on a more prosaic matter - "Doctor, why am I always so tired?" - he replied: "Because you think too much."
Back in the West, she carried out an intensive search for a commercial firm that disseminated the message of Tibetan medicine in Europe and found Padma, a Swiss company that manufactures medicines based on prescriptions that were smuggled out of Tibet to the West 200 years ago. Sallon proposed to the owners that the Natural Medicine Research Unit she had established at Hadassah in 1994 provide the company's scientific support. Hadassah doesn't take part in funding the unit, but only hosts and backs it, and the joint project Sallon set up with Padma injected a quarter of a million dollars in the first year. The study, which is focusing on Padma 28, a medicine for dealing with cholesterol and arteriosclerosis, and Padma 96, for dealing with colds, has not yet concluded.
Thanks to the direct channel that Sallon opened with Dharamsala, the Dalai Lama found time in his two visits to Israel (1995 and 1999) to visit her unit, which constitutes a kind of Tibetan embassy in Jerusalem. The Israeli team is currently examining a Tibetan pill that includes processed mercury, which was originally intended for "bodily balance." Mercury is highly toxic, yet monks at Dharamsala who take the pill regularly haven't been harmed. The pill is therefore undergoing lab tests to identify its chemical components. Also in the works is an experiment in traditional Chinese medicine that is intended to replace controversial hormones that are given to women in menopause.
However, it's not always necessary to go so far afield, Sallon says. "In the Land of Israel there are 3,000 types of plants with healing properties. The potential for extracting medicines from nature is tremendous." To intensify the research, hothouses to grow some of those plants have been established at two kibbutzim, Ein Gedi by the Dead Sea, and Ketura, in the Arava desert. Sallon has also resurrected the archive that was the lifework of the late botanist Prof. David Zaichek from the Hebrew University, which describes the healing properties attributed to each plant. The more the research deepens, the more zealous she became to practice alternative medicine. Finally she abandoned Western medicine altogether and devoted herself fully to the new-old trend. Her unit at Hadassah doesn't engage in treatment, but is intended to provide unequivocal scientific proof, without any beating about the bush, for the effectiveness and safety of the alternative medicines. The Hebrew University's Faculty of Medicine allows her to deliver one lecture a year, to fourth-year students.
Don't stop, Maggie
When Sarah Sallon, 55, a single mother (she has a son, Uriel), speaks in praise of medicine - natural, alternative, supplementary, holistic: "Call it what you will" - she is all fire and storm. It's difficult to resist the passion with which she defends the Eastern forms of treatment. She views the stress reduction program as part of a comprehensive approach she wants to implant. The program is funded largely by donations from Louis Borick and the Ellie Katz-Henkind Foundation, both of the United States, and partly by the participants (NIS 750 for 70 workshop hours - two hours a week - which gains them credits leading to higher pay),
"By definition, a nurse has a desire to give," says Debbie Eisner, the facilitator. "True, she doesn't need a course for that, but the great advantage of the course is that it gives her another push. There's a case here that I found very touching, because it shows how, using techniques that are not grandiose but are very basic, it is definitely possible to work wonders." Eisner points to Maggie Evdar, a medical secretary in a surgery ward at Hadassah/Ein Kerem.
"The patient suffered from widespread cancer," Evdar relates. "It distressed me to see her in such agony. I left the station and offered her a short touch treatment - in her back, her head, wherever it hurt. She loved it. `It's so pleasant, Maggie, keep going, please don't stop,' she said. During those minutes she connected less with the pain and more with the pleasure. Her daughter was astounded by the benign effect of the treatment on her mother. She asked me how I did it and I told her it was just touch. I taught her the gist of the technique so that she could continue."
That didn't heal the woman, of course. "As expected, the woman died," Evdar says, "but at least we made things easier for her and gave her a ray of light, even if it was a small one. Without the course, I would never have dared approach the patient, but after we practiced the treatment here and felt the enjoyment it produces, I was positive that I would be able to help. The hospital is an alienating environment, and a patient who arrives in that department undergoes a trauma. It's enough to place your hand on him gently and you have already helped him."
Every Sunday, Leah Birnbaum, the head nurse in the Orthopedics Department at Hadassah/Mount Scopus, explains to the candidates for hospitalization what they can expect. "Thanks to the course, I decided to add a section on proper breathing at the critical junctures when the patient is taken to surgery and then to recovery, or when he gets out of bed for the first time," she says. "I explain that this is actually a gift for all of life: before going in for a job interview, before sitting down in the dentist's chair - take a deep breath. To my delight, most of them follow the advice. If I identify a patient in the department who is especially tense, I ask his permission and then massage his ankles. That wasn't the case before the course, and these are the kinds of things you won't find in any handbook on the duties of the head nurse."
Inspired by the course, she once placed a fragrant candle and played soothing music at a staff meeting, but the nurses viewed it as something akin to idol worship. "It didn't work," Birnbaum acknowledges, though she thinks she will try again, in a different form. "What has been accepted well are the little massages we give one another in a row during a short break at the station."
Birnbaum can't point to any major achievements. "There has been an effect, but it's almost impossible to quantify it," she says. "I am a soft type by character, and now I feel that I am softer. I understood that if I'm tense, I make the whole department tense. So in situations when things become uptight, I tell myself, `Take some air and breathe deeply, relax and don't be quick to react.' I see an influence for the better at home, too."
Keys to the heart and head
In 1964, Bentzi Sapir was a student at Hadassah's School of Nursing, the only man among 50 women. Afterward, the precedent he set had negative repercussions and he found it difficult to get work as a registered nurse. Last year he retired, his last station being the open-heart surgery department. Even though he was close to retirement, he joined the first course given by Sallon and Eisner. He enjoyed every minute, he says, and since then he has attended the concluding meeting of each course. The program, he says, is a sure recipe for reducing stress.
Indeed, Dr. Sallon designated the program above all for nurses who work in "high-stress" departments, such as ER, oncology and surgery. It was from them that the reports emanated about above-average levels of migraines, sleeplessness, smoking, overeating, absence from work, exhaustion and anxieties. The workshop, Sallon says, has improved the situation tremendously. The most dramatic changes are in smoking (a 40 percent decline) and work absence (down by 75 percent). One participant threw out her respirator in the wake of the workshop - everyone applauds; another threw out the pills to lower blood pressure she was dependent on - more applause; a third nurse relates that the baby she had in the midst of the workshop is amazingly quiet in comparison to his two older siblings - tumultuous applause.
A fourth nurse relates that she finds it easier to cope with her son, who suffers from Asperger Syndrome (an autism-like disorder) - the imagination is given free rein here. Yet even if the reports are overly optimistic, they cannot simply be written off. I saw happy nurses. "No one shouts at us here," they say, and this alone is apparently enough to indicate the welcome effect of the program, in which 80 nurses have participated so far. At the end of the year Sallon will publish a summary report that will give a scientific imprimatur to the impressive achievements she talks about.
"There are no heroics with us in the department," says Batya Ovadia, from the hospice. "We try to make things easier for the terminal patients. Along with the conventional medicines and treatments I offer, I definitely adopted some of the methods I have learned here. My repertoire is larger: touch, shiatsu, pressure points. You can do a great deal with simple means. I don't use the word `alternative,' because these techniques go hand in hand with others, so I call them complementary. I tried to get a few more of the staff to attend the workshop, but it's not suitable for all of them. For me personally, it improved my quality of life. I feel that I can take in more and give more. The course was an eye-opener for me and gave me more keys to the heart, the head and the emotions."
In the wake of the workshop, and taking advantage of the momentum, she recruited her whole family - husband, three children and the daughter's boyfriend - for a joint yoga class, which is held every week in the yard of their house. n
ICYMI
Ken Burns' Brilliant 'The U.S. and the Holocaust' Has Only One Problem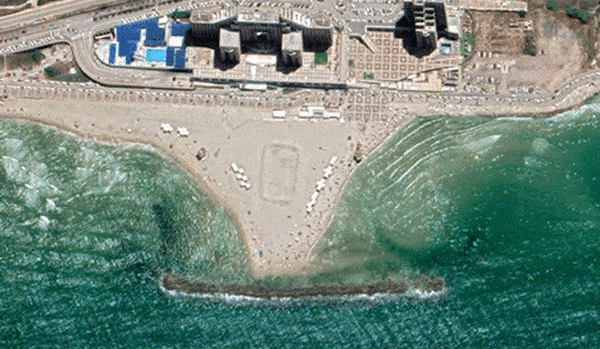 Facing Rapid Rise in Sea Levels, Israel Could Lose Large Parts of Its Coastline by 2050
Lapid to Haaretz: 'I Have Learned to Respect the Left'
The Mossad's Fateful 48 Hours Before the Yom Kippur War
As Israel Reins in Its Cyberarms Industry, an Ex-intel Officer Is Building a New Empire
How the Queen's Death Changes British Jewry's Most Distinctive Prayer