Eviction Notice
Three weeks ago, on January 22, a group of people from the Civil Administration showed up at Givat Haroeh.
Three weeks ago, on January 22, a group of people from the Civil Administration showed up at Givat Haroeh. The men went through the trailers one after the other, documenting the activity with a video camera and pasting notices on the doors that said: "Order on the subject of illegal structures, temporary injunction Judea and Samaria No. 1539." The order was signed by the chief of the Central Command, Major General Moshe Kaplinsky, and this is the wording: "Pursuant to my authority, and since I believe that the act is necessary for proper government and in order to maintain public order, I hereby declare this a restricted area ... Eight days after the publication of this declaration no one will enter the said area and no one will remain in it."
That same day, evacuation orders were also delivered to the residents of eight other outposts (Bat Ayin West-West, Hazon David, Ginot Aryeh, Havat Shaked, Tal Binyamin, Havat Maon, Mitzpeh Yitzhar and Yitzhar South). The addressees were given the right to appeal to Kaplinsky. The residents of Givat Haroeh have a feeling that this time, the order is not an empty threat. Last Thursday, the High Court of Appeals held its first session on the subject of the nine outposts slated for evacuation. The proxies of the appellants - Amana (the settlement movement of Gush Emunim) and the local councils of Judea and Samaria - asked that the orders be canceled because, they claim, they were issued for irrelevant reasons. The game of legal ping-pong is in full swing, and the residents of Givat Haroeh are awaiting a decision.
In the military documents, Givat Haroeh is still called by its old name: Givat Apirion. North of it are Ma'aleh Levona and Luban al-Sharqiyah; to the south is the settlement of Shiloh; to the west is the Arab village of Sinjil; and to the east, the settlement of Eli. Givat Haroeh, 15 families and four single men - this is how it all began in July 2002. Although it seems far removed from civilization, it is actually only a 50-minute drive from the heart of Tel Aviv. The view is breathtaking: On a clear day - they like to tell tall tales here - one can see the summit of Mt. Hermon.
Although they assume there will be an evacuation, the atmosphere is calmer than expected. "If there is an unequivocal decision and we are ordered not to be here any longer - which means that the Jewish people are no longer interested in our mission - we won't be here," declares Rabbi Haim Vidal, the person whom everyone looks up to here. "We'll all get up together, we'll wipe a tear and we'll embark on the next mission assigned to us, which I hope will achieve greater legitimacy. Whatever happens, we won't sit `every man under his vine and under his fig tree' [Micah 4:4]."
Vidal looks at things in historical perspective. The nahshonim (a term meaning trailblazers, a reference to the eponymous biblical figure of Nahshon, who was said to have been the first to enter the Red Sea when it split apart), "who preceded the camp, have always encountered lack of understanding, whereas the history's judgment put things in perspective and gave them credit," he says.
"The bitter day of evacuation, if it takes place, God forbid, will, despite the tremendous difficulty involved, be quiet, melancholy and restrained. For me that's essential. We'll try, and I hope we'll have the spiritual strength, to behave as nobly as possible. In order not to lose our equilibrium, we practice calm and patience, we are educating ourselves internally. Embarrassing sights such as those the public witnessed at the [the outpost in] Tapuah will not be seen at Givat Haroeh, one reason being that we don't have violent types who claim to have primeval energies. The cross-section of people here is ordinary, completely average," the rabbi says about his growing community. "My great fear is that if they send us reinforcements from the [extremist] hilltop settlements, we'll lose control. That's why we are formulating a plan to avoid falling into that trap."
From India to Samaria
Rabbi Haim Vidal, 51, is the oldest resident of Givat Haroeh, which was settled by young couples half his age. He was born in Morocco and when he was three, his family immigrated to Israel with him and settled in Kiryat Shmona, "where I had a enchanting childhood," as he puts it.
At the age of 14 he enrolled in the military boarding school attached to the Reali School in Haifa. "I was not the one who decided on that," he recalls. "I went there because my father, who was the principal of a school in Kiryat Shmona, wanted me to be successful. His goal was first and foremost the Reali School, then considered the best school in the country. The military boarding school was secondary for him, a kind of tax you had to pay in order to achieve the main goal."
In June 1967, two months before he entered the boarding school, the Six-Day War broke out and the euphoria was at its height. He says that as a child who came from the provinces, this was "fascinating - an experience that expanded my horizons." He studied in the scientific track and was known as an outstanding student, but also as a troublemaker. "One doesn't remind a person who has repented of his sins," he quotes Maimonides, embarrassed.
Upset at having to relinquish his ambition of being a combat soldier due to hearing problems, Vidal enlisted in army intelligence. The battles of the Yom Kippur War in October 1973 devastated the class of 1971 of his boarding school. "We finished school with 34 students," he says. "Six were killed in the Yom Kippur War, four were seriously injured, one was taken into captivity, three became newly religious - in their morbid jokes, the class counts us among `the fallen.'"
During the war the 188th Armored Brigade in which he served was totally destroyed in the southern Golan Heights. "I had to scrape my brigade commander, the late Colonel Yitzhak Ben Shoham, out of the tank," he recalls.
Vidal was discharged from the regular army in late 1977. By then he had married Smadar, from a moshav in the Galilee, and just three days after he took off his uniform, the two landed in New Delhi and set out on an adventure in the Far East that lasted for over a year. On their return they settled in her moshav, he says. "It was great, but spiritually speaking, I dried up completely."
Vidal studied toward his bachelor's degree at the University of Haifa in Jewish and general philosophy, ran a bookstore and slowly but surely, shifted from Sartre to the Ramhal (Rabbi Moshe Haim Luzzatto, an 18th-century Italian Jewish scholar). "As strange as it sounds," he explains, "the university gets credit for exposing me for the first time to the depth of Jewish subject matter, and in effect was my gate to the process of tshuva [return to religion]."
Vidal began to pursue a doctorate in Jewish philosophy, but quickly abandoned it in favor of moving to Jerusalem's Mercaz Harav yeshiva. In 1991 he moved to the settlement of Eli in the West Bank and taught at the pre-army Bnei David program (combining yeshiva studies with military training), which he says spurred a revolution among religious Zionist youth and their status in the Israel Defense Forces. Five years ago he began to work in another framework, with young men who have completed their army service, and whose purpose is "to rebuild their spiritual world after the shocks they absorbed during their military service," as he defines it.
The soul mates
Vidal, today a father of eight with two grandchildren, made his way to religion along with two soul mates from his boarding-school days, and in effect, the three of them influenced one another. "The domino effect was at work here," he says. One of them is a Belz Hassid who lives in ultra-Orthodox Mea She'arim in Jerusalem.
The other, Moti Karpel, a resident of Bat Ayin, is an ideologue of the Chai Vekayam movement, which favors the establishment of a state run according to halakha (Jewish law), and a member of a group that is trying to gain a foothold in the national leadership on behalf of "the believing public." Karpel's past includes violent clashes with the police, during attempts to go up to the Temple Mount and while protesting the Oslo Accords. He was also sent to military prison when he refused to serve, to protest what he called a spineless army policy.
Vidal: "Moti is a wonderful person. He has broad and profound insights that are correct for the most part. On the other hand, I have never identified with his practical steps."
Vidal broke off his relationship with the third newly religious member of their class, with whom he spent the Yom Kippur War in a half-track, on the night of the murder of prime minister Yitzhak Rabin, when his friend phoned, exultant. Shocked, Vidal slammed down the receiver and hasn't gotten back to him since.
Vidal feels a special closeness to the members of his old class, although he rarely sees them. Of them, his best friend is Colonel (res.) Yossi Daskal, the former head of counter-terrorism in Military Intelligence, and today the director of a local branch of a Canadian company. Daskal, for his part, has a high opinion of Vidal.
"I have often visited Haim in Eli. We even spent a Shabbat with him, and I spoke to his students," says Daskal. "These are excellent guys who are an asset to the IDF, who are the backbone of the elite units. At the same time, I disagree with their ideology and their logic. This is a group that, in my opinion, causes damage to the state."
The last time Daskal visited Eli, Vidal told him that he was planning to move to Givat Haroeh, in the wake of his students. "You're crazy," was the reaction, but the strong friendship that began at the age of 14 only became stronger.
"To Haim's credit, I have more than once heard him say that anyone who demonstrates super- patriotism harms the enterprise in which he believes instead of benefiting it," says Daskal. "The most important thing to him now is that if there is an evacuation, it won't be accompanied by aggressive behavior on the part of the residents. He keeps looking for a way to calm things down."
Up to a year ago, Givat Haroeh, first established in July 2002, could still be considered a passing phenomenon. With a handful of single men and no permanent families, the place was considered an outpost of the settlement of Ma'aleh Levona, from which the residents came. Time passed and the place languished, until the settlers from Eli entered the picture.
"We went on a hike in the area," says Elkanah Horin, recalling the renewal of Givat Haroeh, "and were accompanied by a representative of the Ministry of Housing and Construction, [Jerusalem district head] Moshe Merhavia. He declared unequivocally that in order to maintain the contiguity of settlements in the area between Ma'aleh Levona and Shiloh, there had to be Jews holding this ridge, otherwise Arabs would dominate it. We heard, and we acted."
Horin was excited about the idea, but when he returned home, his wife Vered informed him: "Forget it. I like where I live." Two months passed and he didn't let up until she agreed. After three years in Eli they moved to Givat Haroeh, a distance of three kilometers from their former home. After them, in the first wave, came three additional families. Givat Haroeh became the ninth neighborhood of Eli, which is spreading in all directions.
She is from Meron and works as a guidance counselor in Shiloh. He is from Kibbutz Tirat Tzvi, attends the yeshiva in Eli and is also studying education and the Bible in Jerusalem. He was an officer in the Golani Brigade; his father was a deputy company commander in the battle for Ammunition Hill in Jerusalem during the Six-Day War. His grandfather, one of the founders of the religious kibbutz movement, was a battalion commander in Golani Brigade during the 1948 War of Independence, and was among those who captured Umm Rashrash, today Eilat. His grandson feels he is faithfully continuing the family line, in every sense.
"Our settlement here is not the private whim of some lunatic types, as some tend to present us," says Elkanah. "The establishment turned to us for help." That is also why he is opposed to the term "outpost" - and even more so, to the term "illegal." "Givat Haroeh is a settlement in every respect."
He serves as the security officer of the community. The couple have two children, with a third on the way. Five women in Givat Haroeh are in an advanced stage of pregnancy. "It's an inseparable part of our ideology," explains Vered Horin with a smile. "If the prime minister decides to [evacuate us], nothing will stop him. What I'm most afraid of is the cruelty of the yes-men. In any case, we'll maintain restraint. For now, the crisis that has been created only strengthens us and consolidates the community that has formed here. It's important to me to say that if the Jewish people are not with us, there is no point to our war over this land. We want the connection, because in some sense we have become cut off.
"People give up their lives daily on the roads, our struggle to survive focuses us on ourselves, and doesn't leave us any energy to think about what comes next. The settlement enterprise has been unbelievably successful, but if we're unable to win over the hearts of our brothers, it's in danger. The hostility toward us hurts me, but had we waited for the readiness and the consent of the nation, there probably would be nothing here."
Used to withdrawals
The week before Tu Bishvat (the Jewish Arbor Day) was packed with events. A tree-planting ceremony attracted 500 children and teenagers, and an even larger crowd gathered for a Torah scroll dedication ceremony. The hundreds of people who came to identify with the settlers danced and sang, little children ate cotton candy, there were talks with rabbis, a Hasidic gathering, a discussion with former MK Hanan Porat and journalists and television crews roamed about. Givat Haroeh had lost its anonymity.
Growing up, Shira (Gur) Dishon had been the lone leftist in her Bnei Akiva religious Zionist youth group, in Jerusalem's Ramat Eshkol neighborhood. "When they went to demonstrations of the right, I avoided it," she explains. "I had a principle of not crossing the Green Line. If someone I traveled with entered the territories, I would thank him politely and get out of the car, even if that meant I had to make a detour. In debates among my friends, I always won."
Joining the left-leaning religious Zionist party Meimad was a natural step for her. "To withdraw from all the territories, to give a state to the Arabs, that was my viewpoint," she says. During her National Service, when she was a guide in the field school on a kibbutz, the staff adopted her warmly.
Dori Dishon, also from Jerusalem, had just finished an officers' training course and was serving in the elite Egoz commando unit when they met. "At first I felt disdain for him. To me he was an extremist from Kiryat Arba," Shira says. Over time they became close, and political arguments were an inseparable part of their lifestyle. "I had many arguments with Dori, for example concerning the concept of `national honor.' I thought this was a childish, immature idea, to play games of honor seemed too petty to me, something that suits the Arabs but not us, the Israelis."
He pulled in one direction, she in the other. When they got married, three years ago, it was still a draw. Then, due to the cumulative effect of the Al-Aqsa Intifada, her firm views slowly weakened. Says Dori: "It was Arafat who brought shalom bayit [marital harmony] between us." Shira gives full credit to her husband's powers of persuasion. "I, the `enlightened' one, lost in a huge way. I had no success whatsoever in convincing Dori."
He grew up in a home that can be called "liberal Orthodox." His father was the principal of the Shalom Hartman Institute high school, a stronghold of the religious left. "In a sense, I rebelled when I chose to study in the Kiryat Arba yeshiva, and right before I was drafted, in the Shavei Hebron yeshiva," he says.
Today, Shira is a science teacher and is studying for a master's degree in psychobiology. Dori combines Jewish studies in the kollel (yeshiva for married men) in Eli with studying toward a degree in electrical engineering and electronics at Ariel College. They have one son, Eitan, and very soon he will have a brother.
In the end, it was Shira who pressed to leave Eli for Givat Haroeh. When the evacuation order came, she suffered an attack of pessimism - but has since recovered.
Says her husband: "I've been used to withdrawals since Lebanon. Unfortunately, I'm too familiar with these things. Why should I care? After all, the conditions in the home we left in Eli are much more comfortable than those in Givat Haroeh, so that we have a place to return to. But that's not the problem. The point is that once again I feel cheated because they're dismantling a front despite the fact that we're winning. In Lebanon we were beating the terrorists, but Ehud Barak, [who was prime minister at the time], with the backing of the Four Mothers movement, stopped us. This time it's [Prime Minister] Sharon who is doing the same thing to us, just at a time when the Palestinians are down and out."
He adds that public hostility is more painful to him than the possibility that he'll have to leave his home. "I have a wonderful aunt in Herzliya, she's secular. We went to celebrate her 50th birthday. She greeted us with the sentence, `I really appreciate your coming, but we won't be coming to your brit' [circumcision ceremony for their son]. Ladies and gentlemen, I don't have horns, the time has come for you to be realistic and to acknowledge the situation. You're living in a film. Travel here once and see what's happening under your nose, 30 minutes from the checkpoint. Just come - you can disagree with us, but it's worth discussing."
Establishing a home
Vidal, the tribal elder, followed his students to Givat Haroeh half a year ago. Sarah and Ariel Sussman were the last to join. They are both 22 years old; he is from Kfar Sava and is studying in the yeshiva in Eli; she is from Eilat and is studying art in Jerusalem. It hasn't even been three weeks since they married and moved into the trailer, they have barely managed to unpack their things from the cartons, to build cupboards and get organized while carrying on an unending war against the water that leaks from the roof - and now the news of the evacuation has hit them.
"At first it seemed totally ridiculous to us, we even took things lightly, like a kind of scene from a film, but slowly and surely we understood that the talk of evacuation is very serious," says Sarah Sussman. "I can already imagine the soldiers knocking on the door. I'm very worried. I pray that it's not the way it sounds, that the threat is not real. I'm trying to be optimistic."
There's a paved road, there's a synagogue - they say that all the signs point to the fact that the neighborhood to which they came in order "to establish a home in Israel," is a permanent settlement, and certainly not a temporary outpost.
"It took time until it hit us," Ariel says. "Try to understand what's going to happen here. A company commander will come, he'll throw all the new furniture we bought onto a truck, along with the set of the Talmud that I just got - I keep thinking about the best thing to do when that happens. If we seem to evacuate willingly, those who want to get us out of here will conclude that there's no problem dismantling the settlements in Yesha [a Hebrew acronym for Judea, Samaria and Gaza], and then they'll continue with the withdrawals. And if I oppose it - and I won't - the public will say we're emotionally disturbed and we're wild animals.
"There's a dilemma here. In the end we'll act in accordance with the decision of the settlement committee. Whatever the case, I don't see myself fighting with soldiers, when until a few months ago I was still one of them. On the other hand, they're taking my home, they're taking Eretz Israel, which is ours. The situation is not simple."
Even if one really tries, it's hard to find people at Givat Haroeh who can be defined as fanatics. The people are level-headed, the tone is moderate. "We don't have a secret hiding place for weapons where we hide the hot-heads," says Gili Lichtenfeld. "In the small community that has been built here, abiding by the law is a synonymous with fear of God. In terms of our message, it's only to the good that the evacuation happened to reach our doorstep."
A 34-year-old from Petah Tikva, Lichtenfeld came from an old-style religious-Zionist home, and his father worked in the headquarters of the National Religious Party. His older brother Itzik has undergone several transformations: He left religion and became the manager of young rock groups in Tel Aviv, and then he returned to religion and became ultra-Orthodox, but remained in the city, on Sheinkin Street (a symbol of hip Tel Aviv).
Gili Lichtenfeld studied at the Camera Obscura School of Art, directed two documentary films, "Between the Sacred and the Secular" (a personal journey to friends from his Bnei Akiva days) and "Living Together" (about marriage and parenthood among mixed secular-religious couples). He worked for Educational Television and for the sports channel, but wasn't satisfied with his life. That was five years ago, and now he is studying in the religious studies institute in Eli, is married and has three daughters. Last year he moved to Givat Haroeh with his family.
Sometimes he misses his old friends, his colleagues from Camera Obscura, the intensity of work in television. He is full of doubts, he says, since after all, he isn't "the ultimate settler": "I live in a paradise, but my wife and I definitely feel a need to live in an environment where not everyone is like us. I simply can't believe that I'm living in a settlement. It took me two weeks to be able to tell my parents where I was. My dreams were entirely different."
His dreams were to open a record shop, to play in a rock group, to live on kibbutz for a while. Nevertheless, he's here. "I'll say something that I'd rather not say, but there's no getting away from it: The Jewish people has returned to its land. Before our eyes a powerful cultural process is taking place, whose significance is far beyond the petty question of legality," he says.
Since the evacuation notices were distributed, meanwhile, he "is frenziedly documenting the drama. One day there will be a film about this. I have a beginning, I have a middle, only the end is a riddle to me. For myself, I hope for a happy end."
ICYMI
Ken Burns' Brilliant 'The U.S. and the Holocaust' Has Only One Problem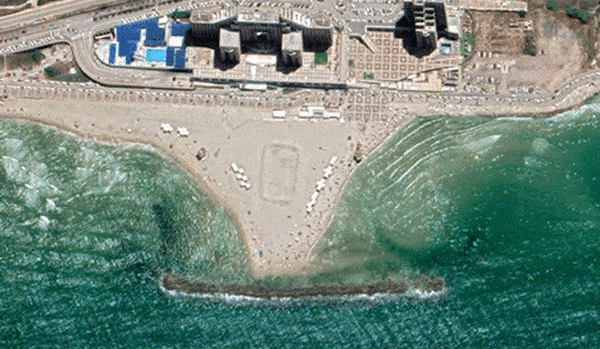 Facing Rapid Rise in Sea Levels, Israel Could Lose Large Parts of Its Coastline by 2050
Lapid to Haaretz: 'I Have Learned to Respect the Left'
The Mossad's Fateful 48 Hours Before the Yom Kippur War
As Israel Reins in Its Cyberarms Industry, an Ex-intel Officer Is Building a New Empire
How the Queen's Death Changes British Jewry's Most Distinctive Prayer