No Tears for Argentina
Israel is abandoning Argentina's Jews, claims Prof. Raanan Rein in a new book. Though many Jews in Argentina are on the verge of starvation, Israel only helps those who want to immigrate here - a policy that has prevailed since the establishment of the state.
In June 1960, not long after Mossad agents seized Nazi war criminal Adolf Eichmann and brought him from Argentine to Israel to stand trial, Prime Minister David Ben-Gurion held a closed meeting with foreign journalists who had arrived to cover the affair. Argentina's government, which was deeply offended by what it regarded as a violation of its sovereignty by secret agents from a friendly state, had recalled its ambassador from Tel Aviv, and was threatening to sever diplomatic ties with Israel. One of the journalists asked Ben-Gurion whether he feared an outbreak of anti-Semitism in Argentina should relations be broken off. No, Ben-Gurion replied emphatically. "And if there is anti-Semitism, they [Argentina's Jews] can immigrate to Israel."
Two years later the diplomatic crisis between the two countries had been resolved, but a wave of anti-Semitism in Argentina remained at full tide. Senior officials from Israel's Foreign Ministry met to discuss the plight of Argentina's Jews. One participant in the meeting proposed that Israel make an official appeal to the Argentine government, and demand that it take action to bring an end to attacks against Jews. Foreign Minister Golda Meir rejected this idea, holding that Israel should refrain from taking any action regarding the situation in Argentina. Now that diplomatic ties had been repaired, Meir reasoned, Israel should not take steps that could jeopardize them simply because of some anti-Semitic episodes.
Prof. Raanan Rein cites Meir's and Ben- Gurion's statements in his book "Argentina, Israel, and the Jews: From the Partition of Palestine to the Eichmann Affair," whose Hebrew version was published by Tel Aviv University (the University Press of Maryland will bring it out in English). In Rein's view, the statements reflect the "cynical, instrumental and imprudent" attitude Israel has displayed toward the Jews of Argentina from 1948 to the present. Rein believes that Argentina's Jewish community, "which always had a strong Zionist core, and always identified with Israel," consistently acted in a fashion which gave precedence to Israel's diplomatic, economic and political needs, at the expense of its own needs.
Rein argues that Israel's stance dates from the late 1940s and early 1950s, when it developed "excellent relations" with Juan Peron's government, a regime that was opposed by most of the country's Jews. Israel renewed this attitude, Rein claims, during the crisis provoked by the Eichmann kidnapping, and also under the rule of the military junta in the 1970s and 1980s, a time when thousands of Jews were among the tens of thousands of young people in Argentina who lost their lives. And Israel's attitude toward Argentina's Jews has been in evidence throughout the past year, when the social-economic crisis that has ravaged the country has throttled the Jewish community.
"Ben-Gurion's response to the journalist at the time of the Eichmann crisis," writes Rein, "was a Zionist answer that totally ignored the needs of a large Jewish community whose vast majority did not intend to immigrate to Israel. Such neglect arises anew today, this time in a way that makes one's blood boil. Argentina's Jewish community has in the past year faced unprecedented distress; it is in a state of collapse. Israel comes to the aid only of those who are prepared to immigrate to it. In effect, Israel chooses between Jews - those who are prepared to immigrate receive full assistance, and those who want to remain in Argentina are abandoned."
Prof. Rein, who worked as foreign news editor for Army Radio during the days when a military dictatorship held sway in Argentina and often prepared reports on the junta's activities, has served for years as the Director of Tel Aviv University's Institute of Latin American History and Culture. His doctorate, supervised by Prof. Shlomo Ben-Ami, dealt with a network of ties that developed in the 1950s between Peron's regime in Argentina and Franco's dictatorship in Spain. He visited Argentina for the first time to collect materials for his dissertation.
"During all of my visits to Argentina," he says, "I've felt that the complex set of relations among Israel, Argentina and Argentina's Jewish community is of concern to both Jews and non-Jews. "I feel that people expect me, as an Israeli historian, to address this network of relations."
Rein's new book relies on Argentinian and Israeli documents, and analyzes the triangular relationship of Argentina, Israel and Argentina's Jewish community from the time of United Nations debates about the partition of Palestine to the wave of anti-Semitism that swept through Argentina after Eichmann's capture. Rein plans to write another volume on this network of relations in a later period, after the early 1960s.
`Cynical behavior'
Two weeks ago, Rein was informed that he had been selected as a member of Argentina's National Academy of History, a prestigious institution comprised of 40 historians from around the world. Rein is the first Israeli to be appointed to this academy. A Spanish version of his latest book, "Argentina, Israel y los judios: encuentros y desencuentros, mitos y realidades," was published in Buenos Aires last year, and won accolades in Argentina's newspapers and in academic settings, and among the Jewish community. His conclusions regarding "Zionist policy that leads to the abandonment of Jews" are likely to spark debate in Israel.
"Israel mainly related to Jews in Argentina as potential immigrants; and its main policy interest was to try to win the Jewish community's economic support, and to encourage the community to influence the government," Rein concludes. "This is cynical behavior, because it was always accompanied by talk about how Israel is a Jewish state committed to the defense of the interests of [Argentina's] Jewish community. The wide gap between this ideological pretension and actual policy fostered exaggerated expectations, and misunderstandings, among Argentina's Jews. So long as these Jews' interests and Israel's interests overlapped, everything worked out. When interests did not coincide, Israel always preferred its interests to those of local Jews."
The gap between rhetoric and actual policy choices was exposed by Eichmann's capture. According to Rein, the kidnapping stirred both "satisfaction among Jews, since a war criminal was to be brought to justice, and also unease regarding the way Israel had acted toward Argentina's government, and its Jewish community." Argentina was furious about the violation of its sovereignty; Israel responded with haughty, patronizing disdain. The government of Israel, which had signed an extradition treaty just several days before Eichmann's capture, refused to accept official responsibility for the kidnapping - it claimed that Eichmann had been seized by "volunteers." When Argentina's government demanded explanations from Israel, it received an official letter from Ben-Gurion that accused it of providing shelter to Nazi war criminals. Rein says that "Ben-Gurion's way of administering the affair insulted Argentina's president, a leader whose attitude toward Israel and the Jews had not been tainted with suspicion."
Ben-Gurion refused to meet in Europe with Argentine President Arturo Frondizi, who at the time sought a way to defuse the crisis in relations between the two countries. Ben-Gurion also refused to explain his position to Argentina's Jewish community. In Rein's view, Ben-Gurion and the Mossad did not at the time understand, "just as [Israeli officials] fail to grasp today, that Jews in Argentina are, first of all, Argentinians, and then they are Jews. Ben-Gurion couldn't fathom why a blow to Argentina's sovereignty was perceived by the country's Jews as an affront to them as well. In the end, it was the local Jews who paid the price for the kidnapping. The wave of anti-Semitism that developed in Argentina during the 1960s had no precedent since 1919."
Unanswered questions
A decade later, after the military dictatorship took power in Argentina, the gap between Israeli and local Jewish interests widened anew. "The number of Jews who were victimized by the junta was disproportionately high, compared to the general population," Rein explains. "But the feeling in Israel was that the country's strong relations with the military regime ought not to be jeopardized by efforts to save non-Zionist Jews, Jews who didn't support Israel and who were not potential immigrants. Israel demonstrated neither humanitarian sentiment nor national-Jewish solidarity. For Israel, foreign policy calculations had the prerogative - Israel wanted to preserve good relations with the military regime, and reap the political and economic dividends, including arms deals."
Rein draws his conclusions about this period in broad, sweeping strokes. He argues that there "are a number of key questions that cannot be answered without reading documents in Foreign Ministry and Jewish Agency archives." His requests to peruse such documents were denied; Rein believes that officials were wary that making "some of these documents" available to research could "embarrass the Foreign Ministry's leadership, and cast a shadow on Israel's activity." Review of these classified documents, he insists, would cast a "negative light on diplomats who continue to hold senior posts at the [Foreign] Ministry."
There is, in any case, little doubt that Israel's policies during the current crisis in Argentina can be judged without the help of archival materials. Prof. Rein says that all the facts are out in the open, and prove that Israel has duplicated and followed its past pattern of behavior.
"Israel doesn't care about Jews who don't want to settle in the country," he says. "If Israel really wanted to behave like the state of the Jewish people, it would act so that its presence would be felt today on all levels by Jews in Argentina - in terms of assistance to the education system, involvement in social welfare programs, and help for members of the middle class which has collapsed ... As it has turned out, it [Israel] isn't felt anywhere. The only cushion available to the Jewish community is provided by American Jewish relief and assistance organizations."
Israel's Deputy Foreign Minister Michael Melchior rejects Rein's contention that Israel "is abandoning the Jews of Argentina." Yet he concurs that "it isn't right to put an exclusive emphasis on immigration to Israel." Melchior states: "There are hungry Jews in Argentina. It's very possible that Israel should have allocated money from its own budget in order to help the community's institutions overcome the problems." Israel's policies in this connection, Melchior clarifies, are formulated not by the Foreign Ministry, but rather by the Prime Minister's Office and the Jewish Agency.
Rabbi Melchior, who has visited Argentina's Jewish community twice during the past two years, states that "Israel is a state for aliyah [immigration]," and that "at a time of crisis, there's nothing wrong with calling on Jews in Argentina to immigrate to Israel." However, he adds, the call for immigration "must not come at the expense of genuine assistance to the Jewish community's social welfare network, which confronts the hardships that have been caused by the economic crisis."
"Israel," says the Deputy Foreign Minister, "has taken, and continues to take, steps to encourage international Jewish organizations, particularly those in the U.S., to help the Jews of Argentina."
Pinhas Avivi, the Foreign Ministry's deputy director-general for Latin American affairs, who served in Israel's embassy in Buenos Aires during the period of the military junta, also rejects Rein's contentions. "Israel helps the Jewish community in every sphere," Avivi claims, "just as it helped the community during the days of the military regime. Hundreds of young Jews whose lives were in danger [under the junta] left Argentina thanks to the help of the Jewish Agency and Israel's embassy."
Responding to Rein's claims, Avivi states that "the Foreign Ministry has nothing to hide," and notes that ministry archives relating to the days of Argentina's military dictatorship will soon be made available to researchers.
A few months ago, during his last visit to Buenos Aires, Rein had a conversation with a wealthy member of the Jewish community whose fortune has not been hurt by the current crisis. In a bitter vein, the man related that official Israeli delegates had asked him to donate money to various projects in Israel that have nothing to do with Argentina. "Everything is in ruins around me, and Jews are starving for bread," the man said. "And not only has Israel failed to help us, but it expects us to help it."
ICYMI
Ken Burns' Brilliant 'The U.S. and the Holocaust' Has Only One Problem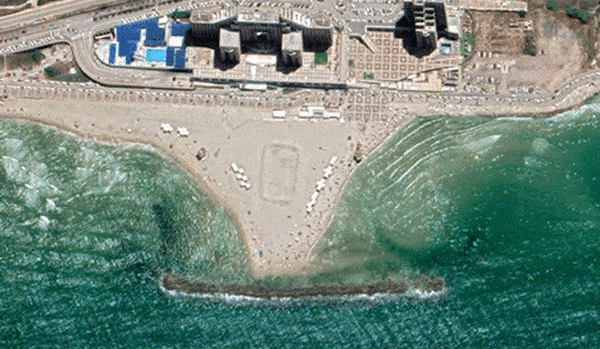 Facing Rapid Rise in Sea Levels, Israel Could Lose Large Parts of Its Coastline by 2050
As Israel Reins in Its Cyberarms Industry, an Ex-intel Officer Is Building a New Empire
How the Queen's Death Changes British Jewry's Most Distinctive Prayer
Chile Community Leaders 'Horrified' by Treatment of Israeli Envoy
Over 120 Countries, but Never Israel: Queen Elizabeth II's Unofficial Boycott